Buggysocks Stroller Handle Covers
Buggysocks Stroller Handle Covers: Ga Ga or Gag?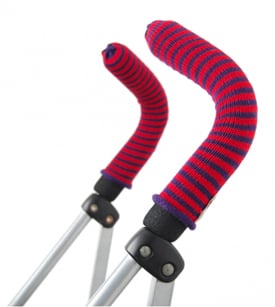 Everything needs a Spring fling, including your stroller! Buggysocks ($21), a Barcelona, Spain-based company has a rather unique way of giving prams a seasonal update. Their knit stockings fit right on the handles of most umbrella buggies, giving them a fashionable makeover in a matter of minutes. Made of 100 percent cotton, the covers are machine washable, allowing mama to ensure that her hands stay clean and comfortable while out strollin'.
What do you think of the funky-looking stroller accessories?