Car Activities For Kids
6 Ways to Keep Your Kids Happy in the Car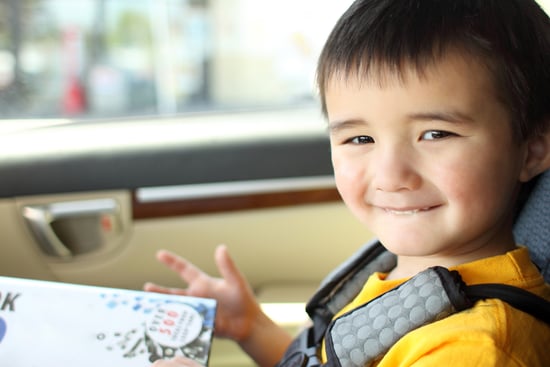 What's the best way to get kids ready for a long car ride?
The upcoming Memorial Day holiday means many families will be traveling, and the preferred method of transportation seems to be by car. According to a AAA survey, 90 percent of travelers over the 2012-2013 year-end holiday traveled by car. That's 84.4 million people — and 26.7 percent of the total US population! 
Not surprisingly, many Circle of Moms members are seeking advice on keeping kids happily occupied while buckled up. If you're headed on a long car trip soon, keep reading for six road-trip tips from well-traveled Circle of Moms members.
1. Use Audio and Video
While keeping kids entertained in the car with DVDs and other electronic gadgets can be controversial, several moms admit that letting children watch movies or play with such gadgets can help a long car ride go by more quickly. "I admit I do offer the Nintendo DS, and now my 7-year-old has confiscated my Kindle Fire for movies, music, and apps," a Circle of Moms member named Sapphire shares, noting that she supplements those activities with "the traditional books, notebook/crayons, and a little imagination."
Jennifer R. adds that a portable DVD player was a "great treat" for her son. "He refused to nap in the car, and so a movie helped him with some down time," she says.
"Unfortunately I have to agree with the in-car DVD," Leha R. agrees. "It just makes traveling with little ones a little more pleasant."
Even if you don't want to seat your child in front of a video, there are other options, Circle of Moms members say. Aleks B. lets her children listen to their favorite CDs. And Karla B. says she usually plays a good recorded book that the entire family listens to. "We also have a repertoire of children's songs we sing," she adds, "including songs from old shows like Mr. Ed, and Gilligan's Island and The Mickey Mouse Club."
2. Create a Goody Box
Every parent knows how excited kids get about goody bags at birthday parties, which is why Semantha W. is one of several moms who created a similar but larger goody box for her most recent long car ride. "I went to the dollar store and got a bunch of small stuff to put into a plastic shoebox — coloring books, 'game' books like puzzles, a fake Barbie — whatever is age-appropriate. Then I wrote their name all big on the top of the box and filled it up," she explains. "I left the boxes on the back seat of my van and told them all about it the night before, so the kids were pumped up about it. I told them they couldn't open it [un]til we hit the interstate (like 10 minutes away) and they loved it!"
Similarly, a Circle of Moms member who calls herself "MeMe — Raises Her Hand" cites an article she read on Today that recommends creating a "backpack of surprise" filled with "age-appropriate toys and other knickknacks." 
3. Dole Out Art Activities
Among the activities you can include in the activity pack are crafts. Jennifer R. recommends Crayola Color Wonder Markers that only work on the Color Wonder paper so your child cannot make a mess in the car. Kellie S. brings her daughter's Magna Doodle, Etch A Sketch, coloring books, and crayons. Charlene L. lets her children make pipe-cleaner sculptures and paint-by-water pictures using premoistened cotton swabs. And she creates a "search and find bottle," filling a clear plastic bottle with small toys, charms, marbles, and rice, then securing and taping the cover on with duct tape. Children then try to find the items hidden in the rice. "Be sure to attach a 'key' sheet showing the items [your children will need to] find," she recommends. 
Meanwhile, Sara B. prepares a variety of car-ride activities. She purchases a small, plastic photo album with pictures of her daughters' friends, family, favorite toys, and pets. Then, "I print coloring pages from the internet at 60 percent of full size, and they fit in the album for my girls to color," she says. She also brings a cube of green florist foam and cuts straws into thirds. "My toddlers spent at least an hour of the last trip poking the straws into the foam. [It's] a little messy (the foam flakes off), but worth it!" she says. She adds that bubble wrap is fun for kids to pop, and children can play with stickers and paper, or magnets on a small cookie sheet.  
4. Play "I Spy" Games
When you are OK letting your child's hands be idle, then Circle of Moms members say families can have a lot of fun playing "I Spy" or similar games. While Gretchen S. says her husband loves the game "Who Can Be the Quietest," they also play the alphabet game, in which her children try to spot every letter of the alphabet, in order, on license plates and billboards. "Travel bingo is great" as well, she adds, explaining that it's played like regular bingo, but the squares have things like a farm, tree grove, minivan, etc.
Jenni C. adds that parents can also exercise their children's brains by getting children to count "how many trucks can you find" or naming shapes of clouds. Debra B. likes to play rhyming games with small children. "First we start with our names, then on to our favorite foods. Sometimes it can get quite silly like . . . Debbie-Rebbie. Children enjoy when you make good clean fun of yourself," she says.
Mary L. encourages her older children to look for license plates and name the states. "Also you can play 'I'm going on a picnic and I'm going to bring . . . A apples,' then the next person says A apples and B bananas, or whatever, but each time they also have to repeat what the other person said as well." Dana K. asks her children to spot as many species of bird and wildlife as they can. And Tabitha M. plays "in my suitcase." "You start with the letter A and say, 'I am going on vacation and in my suitcase is . . .' Each person adds to the suitcase. [For] example, 'I am going on vacation and in my suitcase I have an apron,' the next person would say apron and ball, and so on. My kids get very creative and we end up with things like zebras in our suitcase."  
5. Enlist a Traveler's Helper
Allowing your children to help navigate the road also can keep them entertained. Elisheba H. says her son is learning about left and right and what different signs and stoplights mean. So asking him to keep his eye out for such signs helps him learn as well as keeps him occupied.  
Meanwhile, Linda L. says for a recent trip, she bought her 8-year-old son a map book, and he helps with directions. He "loved to keep up with where we are on the maps," she says. Kelly says the AAA Triptiks are simplified maps great for the age-4-and-up crowd to help follow their family's path. To add more challenges to the trip planning, Jen T. says she gets her teenagers to calculate how many miles there are across states and guess how long it will take to reach their location. "When they were little, we kept a map book (like the ones truckers use) and they marked where we were when we stopped. [That] taught them math, and to read a map."
Ann L. gives her son a camera and asks him to document the family trip.  
6. Remember the Essentials

It goes without saying that along with all of the children's activities you prepare for your road trip, you shouldn't forget the essentials: diapers and wipes (if your child needs them), "snacks and favorite toys are a must," Karla B. says.  
Elfrieda also brings blankets and bungee cords when traveling at night. She notes that she rigged a "tent" with those items on one overnight trip so that the streetlights shining in her son's face didn't wake him up.  
"Be realistic about when you'll be on the road — that could mean whiny, hungry, tired kids, or kids who are ready for anything! My fave travel snacks are granola bars, Fig Newtons, bottled water, cut-up fruit, and anything that can be easily stored and/or thrown out when finished," Margaret says. And "pack a baseball and baseball glove, or a soccer/basketball or Frisbee," Sapphire adds. If your child gets too antsy in the car, then "make pitstops at a local park or somewhere to get out and play," she says.