Cat Cora's Tips For Cooking For Kids
Cat Cora's Stress-Free Approach to Cooking For Kids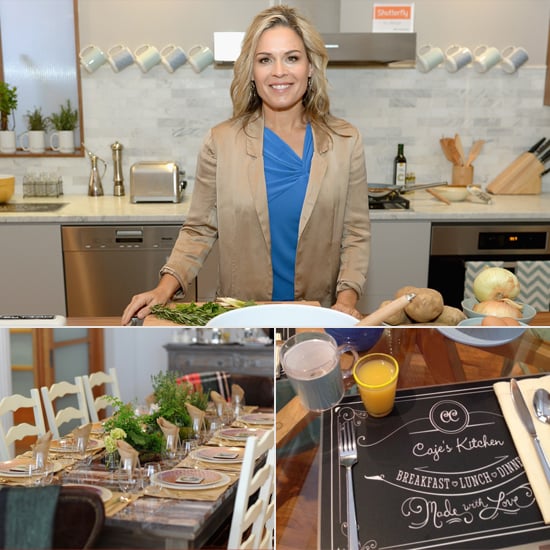 If you're a fan of the Food Network, you're likely familiar with Cat Cora's laser-like focus and Greek-inspired creations on Iron Chef America. The talented and multitasking chef (she has restaurants across the globe, a line of cookware, appears on Bravo's Around the World in 80 Plates, the list goes on . . . ) is also a mother of four boys under the age of 10. We caught up with her at Shutterfly's design house in NYC last week and got some great advice for feeding a busy (and big!) family that we're employing in our homes stat.
POPSUGAR: Tell me a bit about your philosophy on cooking for kids.
Cat Cora: For me, it's really about talking to kids. We have four boys — they're 9, 6, and 4-year-old twins. The way that we empower them is by giving them the opportunity to share their opinions about the menu. We give them two choices, say, "Do you want salmon or chicken tonight? Edamame or broccoli?" You really let them help to develop the menu.
PS: Do they get involved in the cooking process?
CC: We plant herbs and tomato plants so that they have an understanding and appreciation for where their food comes from, and it teaches them to care for those things. We also have a motto that everyone has to try everything once. It helps develop their palates, and our kids are pretty good eaters as a result.
PS: How important is variety in kids' diets?
CC: I don't get too hung up on having something different every night. I find something that the kids really like. For example, artichokes are in season right now, and they're fantastic. Our kids love artichokes, so we might do that two or three times a week. Same with edamame. If there's something that really works, and they're getting the nutrition that they need, I don't worry about it too much.
Keep reading to learn Cat's favorite family meal, what happens if her kids don't eat dinner, and more.
PS: Have you had any issues with any of your kids being picky eaters?
CC: We don't make different meals in our house. Everyone eats the same thing. We make one meal, and that's what we've done from the beginning. That's kind of how I grew up. My mom was a busy mom, and she was like, "This is dinner, and if you don't eat, breakfast will be delicious tomorrow . . . " That's one of our mottos, too, and they learn that this is not a restaurant. That's something that we tried to really instill early on and we still instill it. Of course everybody has phases and we have to reenergize our ideas and philosophies. I'm not a believer in sneaking things into their food, or hiding veggies. We're about transparency.
PS: Do you have a go-to, favorite family meal?
CC: We do several different things. We'll do great fish tacos. We live on the water, so we'll go and grab some salmon and or tuna and throw it on the grill. I like making things like that that kids can really make their own and customize it the way they want. It's fun. It's interactive.
PS: Do you have any tricks and tips for busy moms to avoid that dinnertime scramble?
CC: If you can, get just one thing done in the morning. If you need to marinate something, or put it in the slow cooker. It also gives it more time to infuse flavor. If you do it in the morning, it's going to taste better. Make a list of things that you can prep ahead, whether you're having a dinner party or just trying to get dinner on the table for the family. That, and keep it simple. Don't try to outdo yourself every night.