Celebrities on Sesame Street | Pictures
Sesame Street Cameos to Make You Feel Like a Kid Again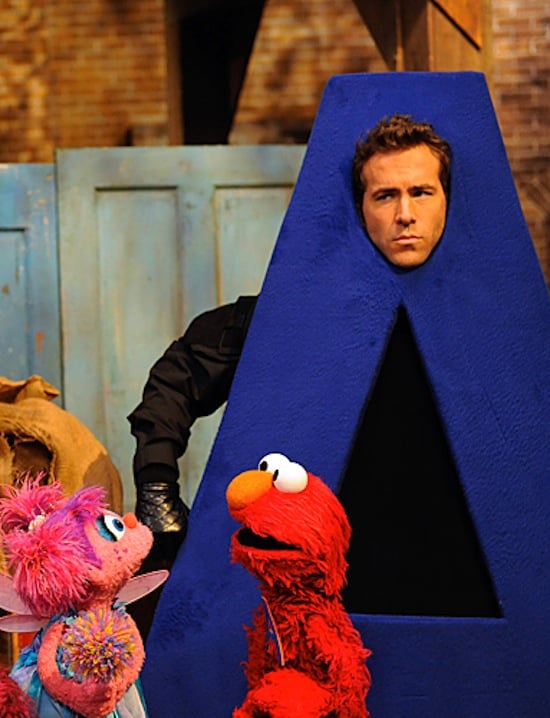 Sesame Street, the show we all know and love, is celebrating its 44th anniversary today! Since the show began in 1969, it has featured over 600 celebrity appearances, including actors, politicians, athletes, and musicians. Whether they're teaching the puppets about reading and writing, sharing inspiring lessons about diversity, or just joining characters in fun sing-alongs, the star-studded celebrity moments are always something special. And they never fail to leave us with huge smiles on our faces and sweet songs in our hearts. In honor of the show that's taught us all so much over the years, we've highlighted our 17 favorite celebrity visits on Sesame Street.
Usher

, 2013

Usher's version of the ABCs is so good, he should put it on his next album.
Jake Gyllenhaal

, 2009

Jake Gyllenhaal explains the word "separate" while having an octopus stuck to his head — and it's exactly what you think.
Julia Roberts

, 1990

While trying to scare Julia Roberts, Elmo can't help but bring out her famous grin instead.
*NSYNC

, 2000

We can't decide what makes us smile more: the boys of *NSYNC explaining how to be yourself or Justin Timberlake's bucket hat.

See more sweet, funny celebrity Sesame Street moments after the break.
Katy Perry

, 2010

Katy Perry's Sesame Street visit wasn't without its controversy — the video was pulled from its original episode because parents thought the singer was showing too much cleavage — but the duet of "Hot N Cold" that she performed with Elmo is still too cute for words.
Michelle Obama

, 2009

While promoting her Partnership For a Healthier America campaign, Michelle Obama went down to Sesame Street to teach Elmo and friends how to plant their own vegetable garden; cuteness obviously ensues.
Ryan Reynolds

, 2010

While joining Sesame Street's finest to perform "The A-Team" theme, Ryan Reynolds makes the perfect letter A — and Telly channels Mr. T to a T.
Ellen DeGeneres

, 1995

Ellen DeGeneres shows off her famous dance moves while teaching Elmo what it means to take turns.
Jennifer Garner

, 2010

Jennifer Garner and Elmo show off their most effective stretches in this sweet clip.
Rosie O'Donnell

, 1993

Rosie O'Donnell rapping with Elmo — that's all you need to know; just press play.
David Beckham

, 2008

David Beckham appeared on the show to teach Elmo what it means to be "persistent." Turns out, he kind of already knew.
Natalie Portman

, 2003

Natalie Portman may actually be the most enthusiastic celebrity to ever appear on the show. This clip of her and Elmo playing a game of The Princess and the Elephant is guaranteed to warm your heart.
Sarah Jessica Parker

, 2010

Sarah Jessica Parker gives a subtle nod to Carrie Bradshaw and Sex and the City as she "waits for Big" on Sesame Street.
Emma Stone

, 2011

Emma Stone brings her stellar comedic timing and physical comedy skill while demonstrating "balance."
Destiny's Child

, 2002

Though the original version of "A New Way to Walk" premiered in the '80s and was performed by The Oinker Sisters, Destiny's Child stopped by the Street to modernize the popular song with Grover, Elmo, and Zoe.
Neil Patrick Harris

, 2008

Neil Patrick Harris brings his signature charm and Tony Award-winning moves to this adorable appearance as the "Fairy Shoeperson."
James Gandolfini

, 2002

Before his passing in July 2013, James Gandolfini made an appearance on the show to talk about feeling scared. In the truly endearing clip, James admits to being afraid of the dark and sleeping with a night light.