Celebrity Baby Name Inspiration
What to Call Baby: Do You Steer Clear of Celebrity Names?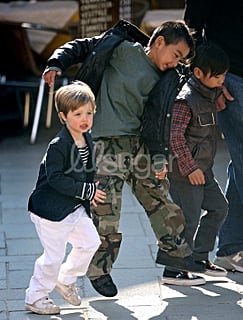 Many girls have the name Paris or Ava, but does the first make you think City of Lights or a certain celebutante with the last name Hilton? And do you associate the latter with a family member, the Gabor sisters, or Reese Witherspoon's daughter? While Hollywood's baby boom has birthed some unique names from Kingston and Zuma (the Rossdale boys) to Harlow and Sparrow (the Madden tots), it's also dusted off some older names like Olivia, Alice, Ruby and Vivienne. While some parents-to-be take the trends as inspiration to name their babe, other moms and dads nix monikers like Angelina, Brad or Shiloh, (even if they are family names) because they don't want people to assume their tot's name came from Tinseltown. What's your opinion?