Celebrity Baby Names
Celebrity Baby Names: the Best and the Worst
We're excited to share this post from our friends at Celebrity Baby Scoop! Every week, we will be bringing you the best celebrity baby stories from the Celebrity Baby Scoop, including this post from Jenny Schafer about the best and worst baby names in Hollywood.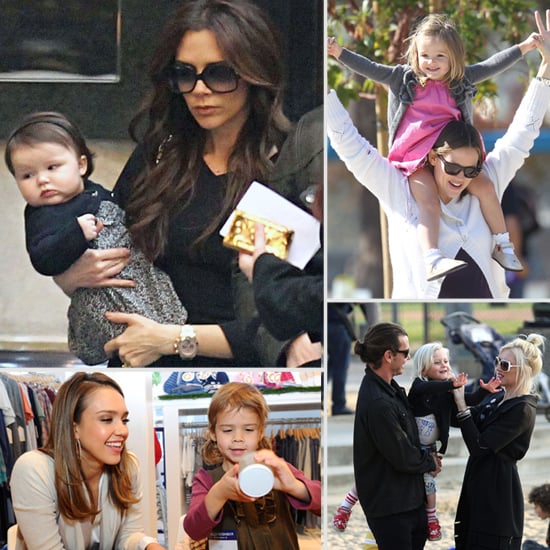 With the recent arrival of Blue Ivy Carter — the first child of R&B royal couple Beyoncé and Jay-Z — we couldn't help but reminisce on the best and worst baby names out of Hollywood.
Who will be the next Shiloh, Suri, Pilot Inspektor, or Moxie Crimefighter?
Related: Celeb Baby Gear — Steal Louis Bullock's Look
There's a fine line between unique and just plain cruel when naming your child, and nobody does that better than our favorite celebrities! Let's take a look through some of the best, worst, and wackiest celeb baby names . . .
Take a look through our small list outlining some of the best and worst baby names out of Hollywood. Who got the perfect mix of unique and fabulous? Who got is all wrong?
The Worst:
Blue Ivy
Apple
Pilot Inspektor
Bronx Mowgli
Zuma Nesta Rock
Ikhyd Edgar Arular
Buddy Bear
Sparrow James Midnight
Bluebell

Madonna

Bandit Lee
Bardot Vita (note: her name has since been changed to Bella)
Bear Blu
Mirabella Bunny
Moroccan and Monroe
Hero Harper
Knox Leon
Ever Gabo
Charlie Ballerina
Heavenly Joy
Goldie Priya
Blaise Ray
West Flynn
Echo
Gunner
Mabel Painter
Java Kumala
Moxie Crimefighter
Sin Halo
Rumer Glenn
Sundance Jennings
Blakesley Grace
Kal-El
Petal Blossom
Peanut Kai
Story Elias
Phinnaeus
Diesel Dean
Denham
Press Dahl
Kez Sunday
Spike
Bingham Hawn
Aleph
Cree Taylor
Boone McCoy
Cash Rich
Coco
The Best:
Micah Emmanuel
Harlow Winter Kate
Kingston James McGregor
Violet Anne
Seraphina Rose Elizabeth
Stella Luna
Kenzo Lee
Shiloh Nouvel
Satyana Marie
Harper Seven
Everleigh Rae
Naleigh
Lou Sulola
Ruby Sweetheart
Suri
Dannielynn Hope
Beatrix Carlin
Faith Margaret
Honor Marie
Haven Garner
Matilda Rose
Ramona
Emerson Truett
Aviana Olea
Sawyer Steven
Elijah Dylan
Easton Quinn Monroe
Billie Beatrice
Krishna Thea
Louisanna Ray
Ryder
Lourdes
Eloise Joni
Amaya Josephine
Hattie Margaret
Xander Dane
Delilah Genoveva
Indiana
Arabella Rose
Flynn Christopher
Bennett
Skyler Morrison
Which celeb baby names are the best? The worst? The craziest?
More great stories from CelebrityBabyScoop.com:
Brad Pitt on Marriage and Kids, "Dope" and Depression
Emily Proctor and Pretty Pippa
Laurie Gelman on Parenting Trends, Playdates With Kelly Ripa
Celebrities Attend Pre-Golden Globes Lounge
Nahla Aubry Gets a New Nanny