Chicco NextFit Convertible Car Seat Review
Chicco's New NextFit Convertible Car Seat Is a Game Changer When It Comes to Installation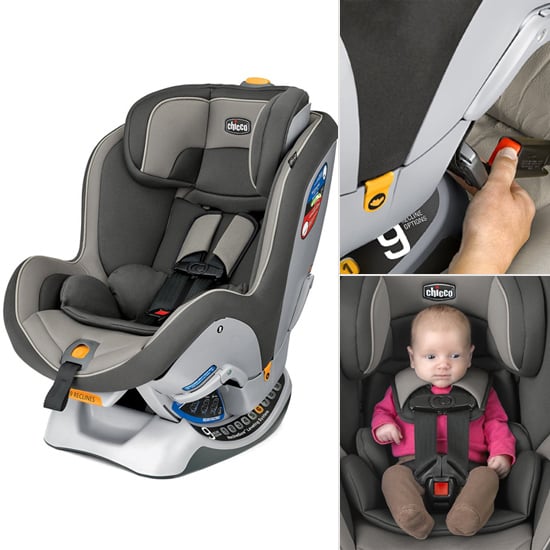 You know you're an experienced car seat installer when you actually get giddy over a new seat that claims to fix your biggest issues with the whole product category. Last Fall, Chicco (which if you don't know is actually pronounced kee-koh) briefly walked us through its companion seat to the KeyFit infant car seat at the ABC Kids Expo. Inspired by the KeyFit's easy installation system, the Chicco NextFit Convertible (available for preorder, $280) uses a unique LATCH pulley system — called Super Cinch — to significantly reduce the effort needed to tighten the seat's LATCH straps. Suitable for kids from five to 65 pounds (and with a rear-facing weight limit of 40 pounds), the seat also features nine (yes, nine!) recline positions and a great leveling system so parents can easily tell if the seat is installed properly.
With a number of innovative car seats coming to market this year — the LATCH-less Britax Frontier 90 and Pinnacle 90 and mobile-synced First Years I-Alert Car Seat to name a few — my 3-year-old and I put the NextFit Convertible's easy installation claims to test as we drove around town. Here's what we thought.
Who is this product designed for? A NextFit is a convertible car seat designed for children weighing between 5 and 65 pounds (up to 40 pounds rear-facing) and who are less than 50 inches tall (meaning, for most tots, it can be used immediately from birth).
What sets it apart? While plenty of car seats claim to have an easy installation process, the NextFit truly owns this title. The company says that the SuperCinch LATCH tightener "uses force-multiplying technology to help achieve a secure fit with a fraction of the effort." In layman's speak, that means the person installing the seat just needs to follow the instructions on the LATCH connectors (that are labeled Pull 1st and Pull 2nd) and then simply pull on the tightener, which quadruples the force of your pull to ensure a tight and proper fit with very little effort — I mean very little exertion. I've always fought my way through the installation process and was able to securely install this one in less than three minutes!
Keep reading to see more about the seat, and what we think can be improved.
The seat also includes nine recline positions, six headrest positions (so the seat grows with your child) and two bubble level indicators so parents can see if the seat is properly installed both rear- and forward-facing. I also found the 2-position chest clip to be a great addition — there's a more narrow setting for babies and a wider setting for bigger and broader tots. The removable and repositionable cup holder was also a nice touch.
What could be better? At 20.5" x 19" x 26" the NextFit is a large car seat. And while that means your child is soundly protected by a large steel frame covered in EPS foam, it is a bit of a gargantuan in a standard backseat. Also, while the nine recline positions ensure the seat fits snugly into virtually any car, the deep bucket seat has forward-facing tots sitting very far back in the seat that my child found uncomfortable after a long ride (he didn't complain at all on shorter trips though!).
Would I buy it? If you're constantly moving your car seat between cars — for grandma, babysitters, car pools and more — the NextFit not only allows you do so quickly, it easily gives you peace of mind knowing that the seat is properly installed. For that reason alone, I would highly recommend the NextFit.