Chick-fil-A's Grilled Nuggets Kids Meal
Chick-fil-A Introduces Healthy Kids' Meal, But Will Kids Eat It?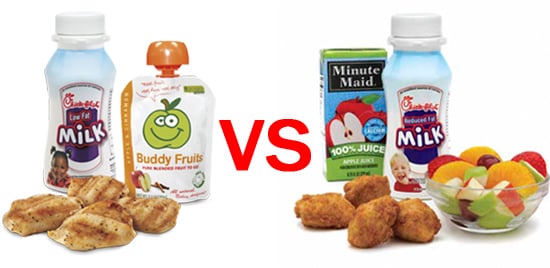 New year, new menu! If mama's New Year's resolution included cleaning up the lil one's menu, she has a new ally on her side. This week, Chick-fil-A, the Southern fast-food chicken chain, is introducing a new kids' menu meal — Grilled Chicken Nuggets. The all-breast meat, gluten-free Grilled Nuggets have only 80 calories and one gram of fat (for four) compared to 130 calories and six grams of fat in the traditionally fried nuggets. The quick-service chain is also introducing Buddy Fruits Pure Blended Fruit to Go applesauce and one percent milk to round out the meal, making it one of the healthiest kids' meals available.
Given the national childhood obesity epidemic, it's great to see a national chain making an effort to keep our kids healthy. The biggest problem now will be getting families to order the healthier meal when Chick-fil-A's famous fried versions are still readily available.