Chicken Broccoli Cheese Casserole For Kids
Kid-Friendly Chicken and Broccoli Cheddar Casserole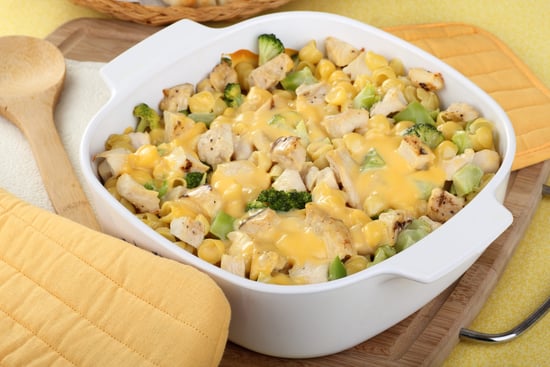 This is the ultimate comfort food for your hungry kids! A lightened-up version of the classic Chicken Divan, this dish is loaded with cheesy, creamy goodness. It's perfect served over rice to soak up all of the sauce. Keep reading for the recipe!
Ingredients
2 boneless, skinless chicken breasts
Olive oil
Kosher salt and freshly ground pepper
4 cups broccoli florets, washed, dried, and cut in 1" pieces
6 tbsp butter
6 tbsp all purpose flour
1 1/2 cups chicken broth, low sodium
1/2 cup cream or half-and-half
2 tbsp dry sherry
1/2 cup grated Parmesan
1 1/2 cups shredded cheddar cheese
1/2 cup slivered almonds, toasted
Cooked brown or white rice (or frozen)
Preparation
Preheat an oven to 375˚F. Spray a 9"X 9" baking dish with nonstick cooking spray and set aside. 
While the oven is heating, brush the chicken breasts with a little olive oil to coat. Sprinkle with salt and pepper and place on a sheet pan.
Place the broccoli florets in a bowl and toss with 2 tablespoons of olive oil and ½ tsp. of salt. When they're well coated with the oil, spread the broccoli florets out onto a separate sheet pan. Place both sheet pans in the oven.
Bake the broccoli florets for 15-20 minutes, or until they're just cooked through, and bake the chicken for 20-25 minutes, or until it's cooked through and the juices run clear. 
Allow the chicken to cool for 5 minutes before cutting into ½-inch chunks. You should have about 2 cups of diced chicken. If baking immediately, leave the oven at 375˚F.
While the chicken and broccoli are roasting, make the sauce. In a medium saucepan, melt the butter over medium heat. Once it's melted, whisk in the flour, and cook for 1 minute, whisking constantly. Add the chicken broth and keep whisking until it starts to thicken, breaking up any lumps as you stir. Reduce the heat to low and whisk for 3 more minutes. Whisk in the cream (or half-and-half), stirring for 1 more minute, then remove it from the heat. Stir in the sherry, Parmesan cheese, ¾ cup of the cheddar cheese, and ¼ tsp. salt and ¼ tsp. pepper.
Add the cooled chicken and broccoli to the sauce and stir to combine. Pour the entire mixture into the prepared baking pan. Sprinkle the remaining ¾ cup of cheddar cheese on top. Sprinkle the almonds over the cheese and cover with aluminum foil. (You can refrigerate it at this point for the day.) When ready to bake it, place it in the oven covered with the foil and bake for 20 minutes. Remove the foil and cook for 10-15 minutes longer, or until it's bubbly around the edges and brown on top. Allow it to stand for about 5 minutes before serving over rice.
Serves 4
Amanda Haas is a cookbook author, cooking video host, and the founder of One Family One Meal, a website that helps families menu plan, grocery shop, and cook on a budget. Her cookbook, Real Family Food, features this and other delicious family-friendly recipes, as well as simple tips for bringing your family together around the table and a strategy for meal planning, budgeting, and shopping.