Children and iPhones
Do You Let Your Kids Play With Your iPhone?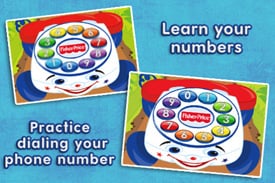 Mama's favorite lil piece of technology may soon become junior's, too. After seeing their parents use iPhones for everything from tracking nursing schedules to seeking out clean toilets, it's no wonder that lil ones want to get their hands on them. And now that toy giant Fisher Price has created three iPhone apps featuring some of the company's most iconic characters — Chatter Telephone, See 'n Say, and Little People — it will be hard for mom to say no. The three new apps are both educational — they are designed to help wee ones learn their numbers, identify animals, and visit a farm — and entertaining. Meaning they will help pass the time as you wait in the carpool line or at the bank. But handing over a $300 "toy" to a tot is not every parent's idea of a smart thing. So tell us, do you let your child play with your iPhone?