Chocolate Cheerios to Hit the Market Soon!
Chocolate Cheerios: Ga Ga or Gag?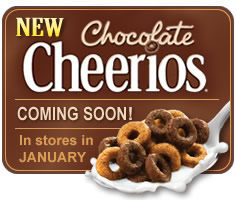 Oh no they didn't. Look out moms 'cause chocolate-flavored Cheerios are heading to a store near you. The old favorite is getting a makeover in one of nature's finest flavors — chocolate. If mommy thinks the standard "o" shaped bites are addictive, she may need to check herself into Cheerio rehab. Sure to be a hit with the young population, moms may not be too thrilled to introduce their wee ones to the newest member of the cereal family for fear of spoiling their tiny taste buds.
Will you treat your child to the chocolate Cheerios?