Chores For Older Kids
The Best Chores For Tweens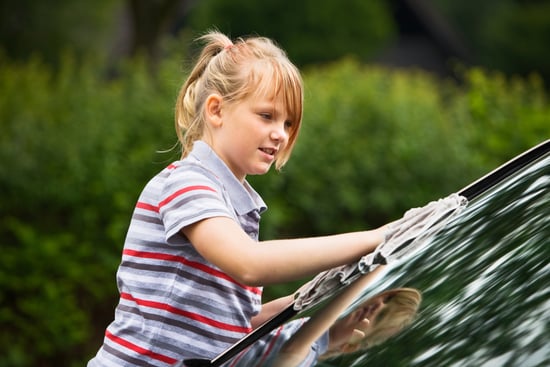 Despite tweens' resistance to chores, Circle of Moms members say that there are ways to get them to pitch in around the house. Whether you're hoping to teach yours the value of work or just need some help with the cleaning or laundry, here are some great suggestions on age-appropriate chores for 9- to 12-year-olds. 
Keep reading.
1. Wash, Fold, Sort, and Put Away the Laundry
Inspired by childhood memories of doing her own laundry, Karen L. says she taught both her kids to start doing their own laundry when they turned 12. "I got tired of them complaining that they needed something special to wear and I wasn't doing laundry that day," she says. "So I had them begin to do their own clothes and the towels from their bathroom. That left me with just mine and hubby's and our towels and bedding. If they messed it up, it wasn't mine."
Mel H. agrees that "kids can help with washing" and says that she had her own laundry basket from the age of 12 on. "My 10-year-old will move the laundry from the washer to the dryer and then to the basket, where I typically fold it."
2. Set the Table and Do the Dishes
Dinner is a nightly event and a good time to teach your tween about having regular chores, says Cindy B. "My daughter is expected to empty the dishwasher and set the table."

3. Keep a Clean Room
Being responsible for his or her own room also is an age-appropriate chore for a tween, says Tami R., whose 10-year-old daughter is responsible for cleaning her own room daily.

4. Walk and Feed the Dog
Taking care of the family pet helps teach tweens about responsibility, suggests Beverly A. "My 9-year-old is feeding and cleaning up after the dogs."

5. Take Out the Garbage
Establishing a set of weekly chores, such as taking out the garbage, helps tweens get in the habit of lending a hand around the house, says Tesha S. "My 13-year-old takes out the garbage and does the dishes on the other days."
6. Light Cooking
Many Circle of Moms members agree that part of being a family member is helping out with the daily tasks. Lani S.'s daughter is learning to cook by helping her mom with meal preparation. Not only is it a big help to Lani, but also, "it teaches [her daughter] to be more independent."
7. Helping With the Little Tasks
There are many little tasks that need to be done around the house daily and that are good ways to get tweens to start helping out, suggests Karen A. "Eleven-year-olds should be doing chores, even if they are lighter chores on school nights," she says. She suggests listing daily tasks for your son or daughter, such as emptying the bathroom garbage, straightening up the living room, or putting away his or her own laundry.

8. Light Housekeeping
Daily vacuuming of the living room and dining room and daily straightening of the bathrooms are good routine chores for tweens, says Carlena J. "We have our son do the dinner dishes, clear the table, stack the dirty dishes, and put away the clean ones if needed," she says. Dusting also is a good light chore to start teaching tweens how to help around the house, advises Jaclyn H. "It is most definitely reasonable," she adds. "You can spray for them and let them wipe the tables, and eventually they can spray themselves with supervision."

9. Lawn, Raking, and Yard Work
Yard work should be on the list of chores that a tween can do for the household, says Cory B., adding, "It's not unreasonable at all to have expectations for tweens regarding chores and daily upkeep of the house."

Creating a Chore Chart
One of the best ways to keep a tween on track doing his or her chores is to create a system for them, says Cindy B., the mother of a 12-year-old. Andrea J. agrees. The weekly list she keeps for her tween includes taking out the garbage, recycling, and on Saturdays changing the beds and laundering the sheets.

Another benefit to a weekly chart is that it can help motivate your tween to complete her tasks. As Cindy B. explains, "Keep a chart of the daily things she is expected to do, then at the end of the week, if they are done, reward her with money or whatever. If they are not done, she gets nothing."