Christy Turlington Interview
Christy Turlington on What You Need to KNOW About Mother's Day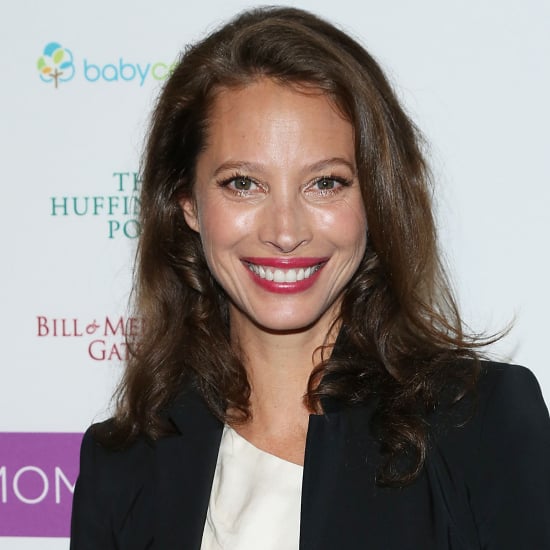 Christy Turlington is a force to be reckoned with. After a serious health scare following the birth of her daughter, Grace, she became immersed in maternal health issues on a global scale, and founded Every Mother Counts to raise awareness about the issue of maternal mortality. Earlier this week, Turlington served on a panel at the Mom+Social conference hosted by the United Nations Foundation here in New York. We were lucky enough to chat with the model, mom, and fierce advocate for mothers across the world.
POPSUGAR Moms: This year, Every Mother Counts has shifted its campaign focus from "No Mother's Day" to "Know Mother's Day." Can you tell us a bit about the new push and what the focus this year is?
Christy Turlington: It's really always been about creating more awareness, because that's our biggest goal: to spread the information. Once you learn what's happening, learn the statistics, you kind of can't help but want to engage and get involved. So we're trying to move the dial in that sense. More action, more efforts, and more collective energy around this issue that touches so many people.
This time of year, women are being marketed to at such a ridiculous rate. There's roughly 15 billion dollars being spent on moms around Mother's Day in the US alone. What that could do for global health would be just tremendous.
Click to read more about Christy's fight for global maternal health, how she controls her kids' access to social media, and what the Turlington-Burns clan is up to for Mother's Day!
PSM: To that end, what can our readers do once we tell them about the campaign and what you're doing?
CT: Well, today we launched a campaign on Pinterest. We thought, this is something that's really popular, especially amongst moms, and it's an easy way for us to share thoughts. We'll be running it through Mother's Day. It's just a sharing campaign — very easy and very accessible. Tied with those messages, there will be information about maternal health and ways to engage.
You can also come back to our website, where we have partnerships on an ongoing basis that we have done with a number of companies. These are great gift ideas that will also benefit maternal health for Mother's Day.
PSM: That makes for a socially responsible way to celebrate the holiday.
CT: Exactly! And 100 percent of the money that we raise goes to programming. We are introducing our third program since last Mother's Day tomorrow. It's for prenatal health care in central Florida. It's run by a woman who is featured in my film, No Woman, No Cry. She's one of those powerhouses who has been providing care for women, no matter what their ability is to pay for that care.
PSM: Something you take for granted when you just have it at your disposal.
CT: You really do. The World Health Organization recommends four prenatal visits per year, and oftentimes, we're lucky if we can get a woman to see a provider of any sort twice, or even at delivery. And here [in the US], you go monthly; you go every other week. It's so much, and you have this ability to continually learn what's going on in your body, what you can do. That's such an important thing: to prevent and to identify complications before they arrive.
PSM: Absolutely. In regards to the specific projects that you support, how do you decide on who to partner with? I'm sure there are so many that you see in your travels and want to help out — how do you hone in the specific projects that you're going to work with?
CT: In the same way that we were trying to choose countries for No Woman, No Cry, it was like, you could close your eyes and put your finger down and say, "OK, there!" I really want to always have a connection to these global tragedies. It's always important that the US is a piece of it: in the way that I had my kids here, and my story started here in New York. There will always be a US component. But Sub-Saharan Africa is where the most maternal deaths are occurring, and so we need to have footing there.
There's always going to be a storytelling component to us, too. We feel like, when people support us, they deserve to know what's happening with that money.
PSM: And how many projects does EMC have now?
CT: The US project will be our third. We hope to have two or three more by the end of the year. We'll never have more than 10 to a dozen. But right now, our goal is to sort of ramp it up incrementally through 2015 and then to be able to continue to support the ones that we have and to check in and see how we're doing.
PSM: Shifting focus a little, today's overriding theme is moms and social media. You're a very active Instagram user. Do you have any social media rules in place in your own house? Are your kids old enough to be into it yet?
CT: I got involved in Twitter when I was putting my film out and I surprised myself by how much I liked it. And I started to learn very quickly that what you put into it is what you get out of it. I've found that I've made such a connection with so many people — honestly, people who I've made friends with and have become real partners with in this maternal health work. Through Twitter, I get information and news from all of these colleagues across the globe that I may never meet. It's been so effective and it simplifies my job a great deal.
Instagram is my absolute favorite, because you're in a place and you say, "I want to share this with somebody!" It just has become so easy, and because so much of our work is with these beautiful people in these beautiful places, it really brings you close to these communities and close to the women that we're meeting — just like a film does.
I combine my Instagram — it's both work and play, because my life is very integrated. I do protect my kids: I don't put their faces out there. I know a lot of people who aren't as rigid about it, but I don't have a private Instagram, so I have to make sure that it feels balanced, and at the same time, it's personal.
My daughter [Grace, age 9] does it a little bit through my phone — she doesn't have a phone of her own. I get to see how she and her friends are communicating. They're sort of developing their own creative perspective on the world. My husband's not as into the idea of her having it, but I feel like, let her participate. We monitor it — she's 9. She's not at a place where she's abusing it in any way, and it's private, so she's protected in that sense.
PSM: Your kids have traveled with you on some of your projects for Every Mother Counts, right?
CT: My daughter's been to El Salvador, because that's where their grandmother's from. My son has not yet. And we all went to Tanzania. It wasn't a work-related trip, but I was in the community where we filmed, and so of course, I had to visit and spend time with those people — it's definitely interwoven. Now when I say I'm going to Africa, there's a sense of "I know that," or "I want to come." Even though Africa's this huge, diverse continent, they have a sense of the smells, of the topography, the music . . . They can envision me there, and I think that gives them a sense of security when we're not together. I can't wait to take them a lot more frequently. At the moment, school is in the way of that, but I hope, as they get older, to do more and more of it. My daughter's pretty close to being able to handle it.
PSM: And do they understand the work you do?
CT: They do, because I've been doing it for so much of their lives. My daughter certainly knows, because her life is what got me on this track. So she kind of likes that. And because she's in competition with her brother at all times, it's like, "Well, I'm her inspiration." She likes that a lot. But also because she's a girl, I talk to her about how important this is for women. And all these barriers that get in the way of accessing health care, that's stuff that will connect to her in time. Maybe not today, but soon. Too soon.
PSM: And last question, since we're a moms site, and it's that time of year — how are you celebrating Mother's Day?
CT: I was just thinking that! I think we're going to the country, which will be nice, because I've been traveling a lot lately. I hope to get at least an hour in of yoga or a run, or something for myself. Maybe sleep in — that would be really nice. I sure my husband will let me do that; he's really good like that.
I like my kids to be creative about the way that they want to celebrate with me. They're adoring and affectionate every day, so I feel very blessed. Whatever it is, we'll be together, and that's sort of the most important thing about Mother's Day.