Clips to Keep Strollers Covered
Blankyclip: Kid Friendly or Are You Kidding?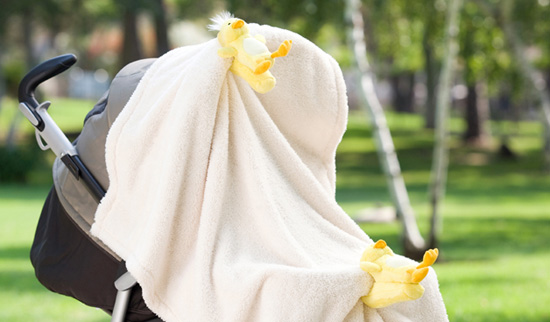 Taking cover has never been so cute! Sixty-five percent of LilSugar readers told us that they keep their lil ones under wraps when out in public – either covering their stroller or car seat with a blanket or actually wrapping the tot up to keep him safe.
Any mama that has tried to keep her baby covered has undoubtedly fallen victim to the slipping blanket that has a knack for falling off in the deepest, dirtiest puddle ever. Adrienne Alitowski's Blankyclip ($48 for two clips and a blanket) is a clip, disguised as a plush toy, which holds blankets onto strollers, car seats, bouncy seats, and more. The adorable clips attach to any stroller and are completely covered in soft fabric to prevent pinched fingers.
Would you use the Blankyclip to keep your tyke covered?