Co-Sleeping Options
How Do You Co-Sleep?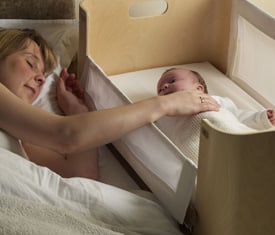 Getting a restful night's sleep with a newborn requires some work. Some mamas prefer to place their tots in their own rooms, but 51 percent of LilSugar readers kept their babe's within arm's reach. Though doctors and the CDC recommend not to sleep with your wee one, 55 percent of our co-sleeping readers said they wouldn't change their ways.
To reduce the potential for suffocation, some co-sleeping parents opt to put baby in a bassinet that attaches directly to their bed, like the new Bednest. Others go the more traditional route and keep baby on their mattress. Which did you choose?