Compostable Diapers and Wipes
Would You Compost Your Diapers and Wipes?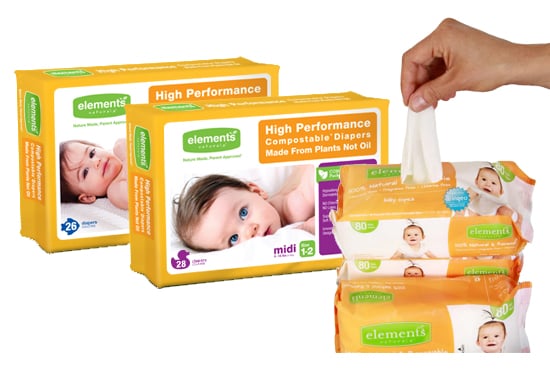 When it comes to your baby's diapering needs, you have limited choices . . . namely two: disposable or reusable. While I praise any mama out there who has the patience and eco-consciousness to go the reusable route, I'll admit, I couldn't hack it. But when I'm throwing my 15-month-old's sixth, eighth, 10th diaper of the day into the diaper pail, I do admit feeling some guilt on the amount of waste I'm creating (and yes, some awe at the amount of true waste she creates!). So I'm intrigued about new company Elements Naturals. Founded by a mom who was on a mission to find diaper wipes that wouldn't turn her baby's bum bright red, Elements Naturals has been making 100 percent natural and compostable baby wipes since 2009 and, coming this Fall, the company is introducing the world's first full compostable diapers. Both products are made completely from a plant-based material called Ingeo and are chemical-free.
My husband has a slight obsession with composting, but I'm not sure he would want to add our sweet daughter's not-so-sweet waste to his bin. Would you? And would you feel better about using compostable diapers rather than traditional disposables? Weigh in below.