Cool Winter Hats For Kids
Back-to-School "Wee"drobe Essentials: Best Hats
Hats off to a great school year! The right cap not only keeps lil ears warm and toasty on a cold Winter morning, it also allows tots to show off their style before the bell tolls. From hand-knit caps with sewn-on scarves to pom-pom-topped ones, we've rounded up some of our favorites to keep children from getting chilly.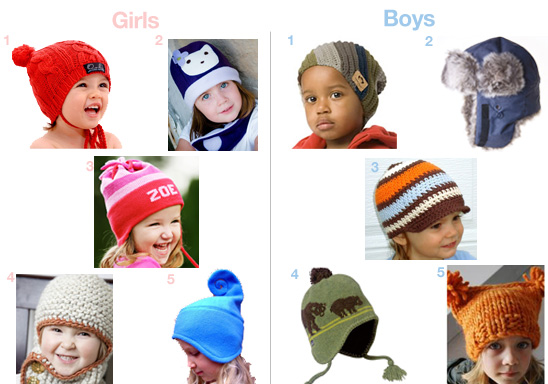 Girls: 1. Oobi Baby Knit Bear Hat (price upon request), 2. Katiesegel The Cat Hat ($22), 3. MJK Knits Striped Earflap Hat ($50), 4. Knittles Wooly Helm ($48), 5. Swirlyhats Turquoise Swirly Ice Cream ($25).
Boys: 1. Appaman DJ Hat ($27), 2. Polarn O. Pyret Lumber Jack Hat ($32), 3. Citefuzz Bebop Brim Hat ($28), 4. Patagonia Wooly Hat ($30), 5. Pipsqueak Chapeau Tassel Hat (price upon request).