Creative Ideas For the Family Holiday Greeting Card
Beyond Photo Cards: Creative Holiday Family Greetings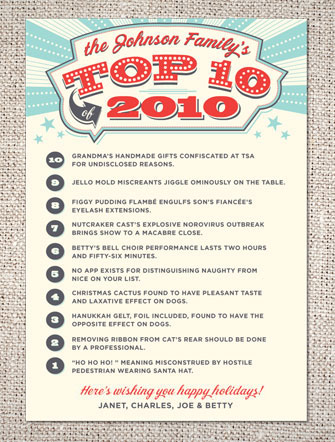 Sending a holiday letter isn't just what it used to be. The printing and envelope-stuffing of the predigital days are still an option, but everything can also be done with some key strokes and a few clicks of a mouse. If you're looking for something that's more informative than a photo card, but not as long-winded as an annual family letter, check out these alternatives.
These folding timeline cards (starting at $64 for 25) or mini photo booklets (starting at $87 for 15) both open up to reveal your family's memorable moments.
This Top 10 list (starting at $125 for 25) is a brief and fun way to let your loved ones know about the highlights of the year.
If you have lots to say, this vintage-style newsletter (starting at $125 for 25) is a great way to send all the updates that are fit for print.
American Greetings' Holiday Pics and Wishes ecard creator (requires $20 per year ecard membership) allows you to upload pictures, videos, text, and sound to create a family holiday card that has plenty of personality.
If you have the creative spark, design your own holiday card or letter (or download a free template online) and PDF it for an easy way to update friends and family.