DIY Chalkboard Wall Hanging
DIY: Homemade Chalkboard Paint Wall Hanging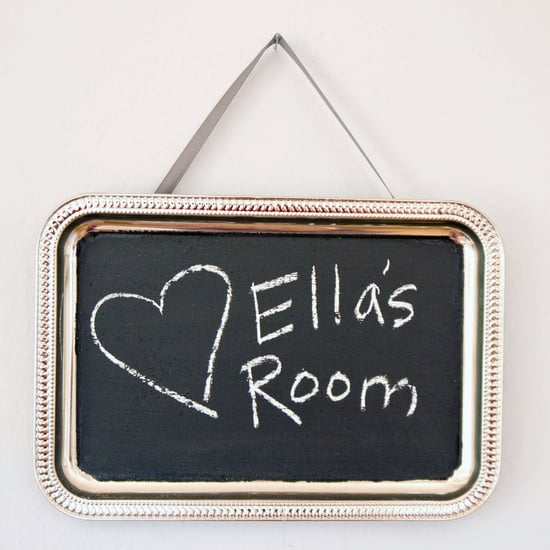 Transform a cheap metal serving tray into a really special chalkboard wall hanging with the help of homemade chalkboard paint. Once you know how to mix together this special paint, you can transform just about anything into a fun drawing spot for your tot. And you can use any color of paint for the base, creating a chalkboard wall in your tot's room that matches the decor or painting the top of a table with your tot's favorite color for hours of chalk drawing fun. Chalkboard paint is easier to mix together than you think, making this an exciting project to tackle with your tot.
Keep reading for the fun directions.
What You'll Need:
Nonsanded grout
Latex paint
Painters tape
Foam brush
Small container
Stir stick
Small metal serving tray
Directions
Gather the materials you need for mixing the paint. You can find nonsanded grout ($20) at most home stores.

Wipe clean a small metal serving tray ($5), which you can find at a craft store for only a few dollars. Invite your child to tape around the base of the tray, offering assistance as needed.

To mix the chalkboard paint, measure one part of the grout to two parts of the paint in a small container. For our small project, we only needed one tablespoon nonsanded grout and two tablespoons of paint.

Invite your child to use a foam brush and paint the base of the tray, working in one direction. Encourage your child to brush the paint with even strokes. The bottom will still show through after the first coat.

Allow the tray to dry and then apply a second coat of the chalkboard paint, applying in the opposite direction. Once dry, your child can use the chalkboard tray for writing special notes or attach a ribbon to the back using a hot glue gun and hang in your tot's room for a special bedroom decoration.