DIY Peacock Costume Made From Photographs
Picture Perfect: You Won't Believe What This Peacock Costume Is Made From!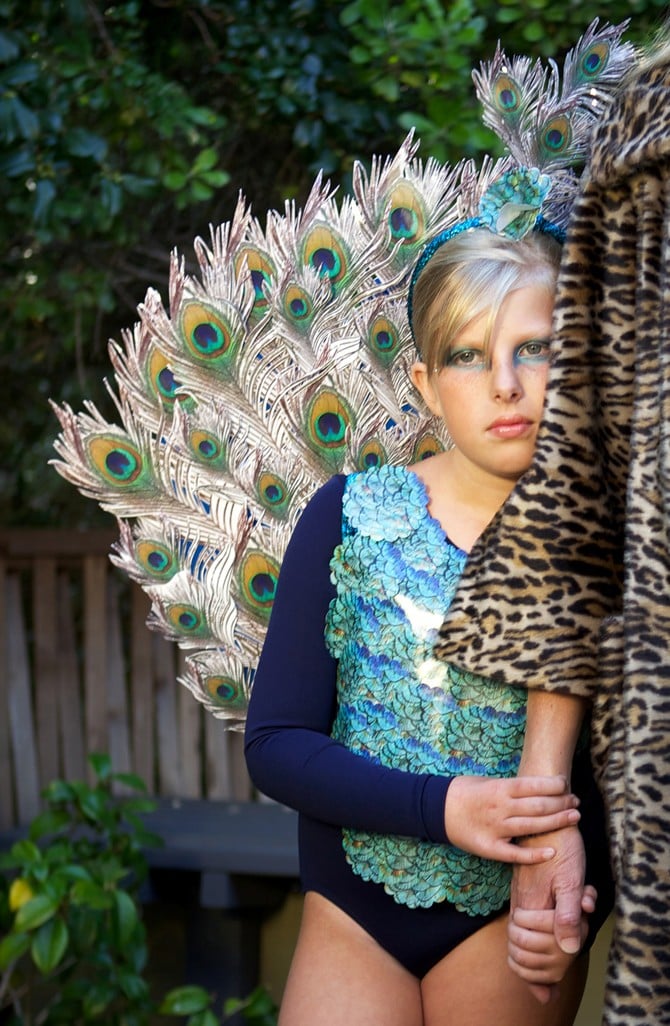 Talk about being resourceful! While we're all for recycling, we thought DIY cardboard box costumes made for eco-friendly costumes — that is, until we spied a peacock costume the fine folks at Shutterfly made primarily out of photo prints. You read that right — the costume you see above is made from nothing more than feathers, printed photos, a leotard, and a headband. And here's the best part of all: it's really easy to create (though it does take some time), and the process can be used to create almost any costume you can imagine. So if you want to create a truly unique costume this Halloween, the first step is to pull out your camera.
Don't believe us? Keep reading for the step-by-step directions.
What You'll Need:
50-100 4x6 feather photos (exact number of feathers dependent on leotard size)
40 4x6 body feather photos
25 5x7 feather photos
40 8x10 feather photos
1 scalloped circle paper punch
1 leotard
1 headband
3 small pieces of wire
1 glue gun (low temperature is fine)
2 bags of glue sticks
1 roll of glitter ribbon
Directions:
Scan photo of feather, and order photo prints.

Cut out feather prints.

Use scalloped paper punch to cut body feathers.
Scallop the edge of your foam-core board for the top of your peacock feathers.
Poke four holes — two on each side of the foam-core board — to thread ribbon through so the costume can be worn.
Using a glue gun, attach individual peacock feathers to the foam-core board, and make sure the larger feathers are at the top.

Using a glue gun, attach the scalloped paper punch body feathers to the leotard.
Wrap headband with ribbon. Start by gluing one end to the inside of the headband.

Take three of the smaller feathers, and back them with wire so you can pose them. Wrap each around the headband.
Take two of the leftover scalloped circle-punched feathers from the bodice, and fold them into themselves to make a blossom for the headband. Glue the blossom in front of the wired feathers.