DIY St. Patrick's Day Crafts For Kids
Easy, Last-Minute DIY St. Patrick's Day Shirts to Keep the Pinchers Away!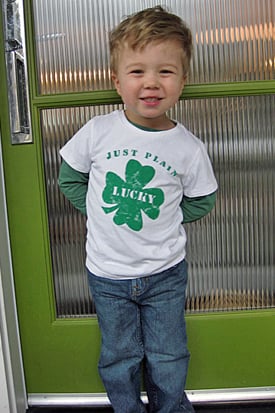 No one blames you for forgetting that St. Patrick's Day is here. With Daylight Savings Time last weekend, and so much going on in the world, the date easily fell off your radar. That said, your tot shouldn't have to suffer from his friends' lil pinchers when he isn't wearing green to school tomorrow.
Before running to the store to buy the first green thing you can find, check out these adorable shirts that Alexandra Hedin created for her family, using some white shirts and a bit of green paint she had sitting at home. The Seattle-based mama created her own St. Patty's Day template (you can print it directly off of her site), transferred it onto freezer paper, and then used it as a stencil as she sponged the paint onto the shirt (more detailed instructions can be found on her site). Now you have no excuse for sending your child off to the school unprepared for the holiday!