DIY Vapor Rub
Beat the Sniffles With This DIY Vapor Rub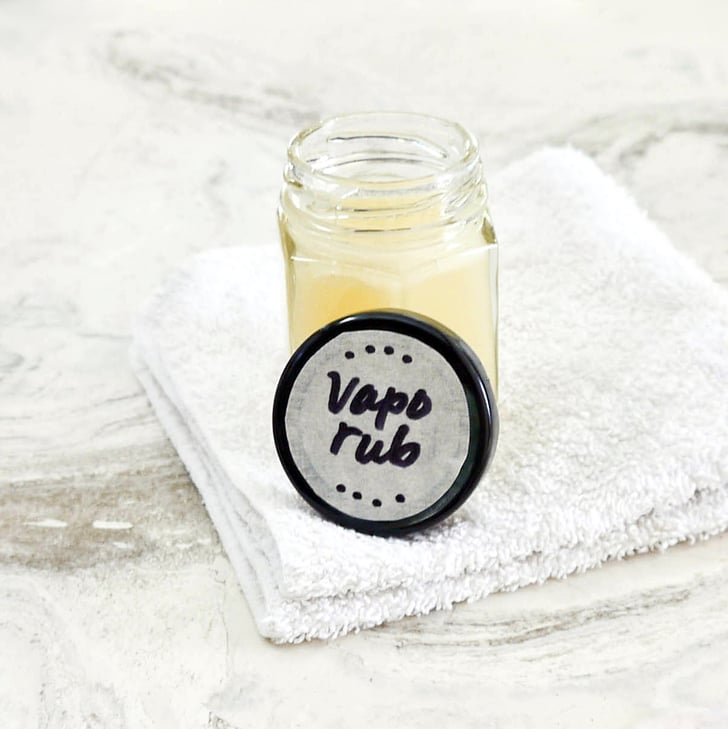 Brave this cold season with an easy salve that soothes stuffy noses and congested chests. This vapor rub does wonders by making you feel better and is so simple to make, which is essential when you're not feeling fantastic. And this rub is even safe to use on kids, only costs a couple of dollars to make, and doesn't stain or leave an oily residue.
Read on for the directions.
What You'll Need:
1/2 cup olive, vegetable, or coconut oil
2 tablespoons beeswax
20 drops eucalyptus oil
20 drops peppermint oil
20 drops rosemary oil
1 teaspoon honey (optional)
Directions:
You can use any type of oil for making the rub, but we found coconut oil created a nice, solid salve that wasn't too oily. Melt with the help of a double boiler, and then add the beeswax until the mixture has come together. Stir, and then remove from heat.
Now add the essential oils and honey, giving the salve a stir to incorporate all the good smells. The honey adds a soothing scent and also just a touch of added moisturizing benefits to the salve.
Carefully pour into small containers, and let set. Once cool, use as needed. And this mixture is safe to use for congested little kiddies too! The rub gives a tingling sensation while emitting vapors that breaks up stuffy noses.
Makes 4 ounces of vapor rub.