Daphne Oz Tips on Pregnancy Nutrition
Beauty With a Bump! Daphne Oz on Having a Healthy Pregnancy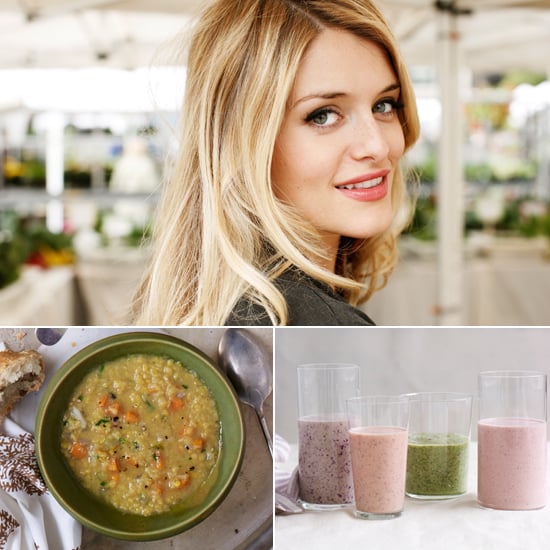 Daphne Oz, daughter of Oprah's favorite doctor and cohost of The Chew, is about to add a new title to her resume: mom! The 27-year-old bestselling author of Relish: An Adventure in Food, Style, and Everyday Fun and The Dorm Room Diet is expecting her first child this Spring, and she sat down with us to share some of her best pregnancy tips, junk food cravings, and her favorite healthy and delicious recipes while expecting!
POPSUGAR Moms: Congratulations on your pregnancy! How have you been feeling?
Daphne Oz: The beginning was tough. I didn't know I was pregnant until I was six or seven weeks, and I thought I had mono! I was so exhausted, and I only wanted to eat carbs. But from month three on the day, I've been able to eat good, normal stuff and get some exercise in.
PS: Has your diet changed since you've been pregnant?
DO: I've realized I have little control over my taste buds! I probably ate two cheeseburgers in the year before I was pregnant, but my baby loves them! And I'm definitely susceptible to implanted cravings. If I walk by a restaurant and see a plate of french fries, then I need those french fries!
PS: How have you dealt with the cravings?
DO: I make myself eat three breakfasts since the baby and I are so hungry in the mornings. At about 5:30, I make a smoothie with half a frozen banana, cherries, blueberries, a spoonful of almond butter, almond milk or yogurt, ground flax seed, water, kale, and lime juice, and I have that on my walk to work. I know that I've had a huge shot of vital nutrients and nutrition early in the morning. Then when I get to the studio, I might have Ezekiel bread or Wasa toast with cream cheese or almond butter or cheddar cheese and apples. I like to have something to chew in addition to the smoothie. The complex carbs in the bread or toast are good for gaining energy, and I'm so looking for energy since I'm not drinking coffee anymore. And the almond butter have fats that are good at keeping me full. Plus, fatty acids in flax seeds or chia seeds are really good at helping with pregnancy brain, which I've definitely suffered from.
Keep reading for more pregnancy tips and recipes from Daphne Oz.
PS: What does the rest of your day look like in terms of food?
DO: For lunch, I have a salad with protein, usually chickpeas. I do eat chicken, but since I've been pregnant, I've been really turned off of fish, which was normally the protein I relied on, so I have been hitting up the legumes. And my doctor told me to try to get in five servings of dairy daily. In my previous existence, I wasn't that good at eating dairy, so I've been snacking on yogurt, milk, cheese . . . things that are doing good things for the baby. For dinner, I've been eating a lot of soups and stews and chili. If I eat too late at night, I can't sleep, so I eat dinner at 5:30, so I have time to digest.
PS: Has your exercise routine changed with pregnancy?
DO: I used to be a crazy indoor cyclist, but I don't do that anymore. My doctor told me I could do anything I'd done before but at an intensity where I could have a conversation. I'm not good at doing something half way, and I didn't want to worry about doing any damage.
My dad and my mom told me that the most dangerous thing for the baby was being stressed out, and I'm naturally a worrier. I get frustrated when I can't meet the schedule I've made for myself. I'm not beating myself up if I can't get a real workout in every day or every other day. It's more important to rest and relax than to get to a prenatal yoga class. But I have been walking my errands. I walk at least three miles a day, but ideally five miles a day. It's easy to do in the city. My husband and I take walks around Central Park, and it's great to spend time together.
PS: What has been your favorite part of pregnancy?
DO: Pregnancy has been the first time that everyone around me is saying "take the time to yourself," "take care of yourself." That's something that women across the board forget about because we're busy taking care of everybody else! But you don't have to wait for pregnancy to invest in self care. It doesn't have to be expensive . . . aromatherapy, baths, walks.
PS: What's your best tip for staying healthy while pregnant?
DO: I really find that it's half the battle to find nutrition-dense foods that are done in less than 30 minutes. When I'm hungry, I need to eat right now, so I love foods that are quick to make or reheat.
Click the links below for three of Daphne's favorite pregnancy recipes!