David Arquette Talks About Jake and the Never Land Pirates
David Arquette Opens Up About Parenting Being a Series of "Do-Overs"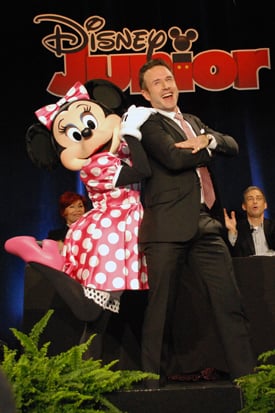 How much fun is it playing a talking parrot on the number one TV show for kids? Just ask David Arquette, who stars as Skully the parrot on Jake and the Never Land Pirates. The actor and dad to Coco, 7, appears to be loving his turn as the wise bird who keeps watch over Jake, Izzy, and Cubby as they try to keep away from Captain Hook. I caught up with David at the Disney Consumer Products event at the Toy Fair this week, where he showed off his dance moves with Minnie Mouse and unveiled the upcoming line of Jake and the Never Land Pirates toys and games.
LilSugar: What's fun about playing Skully?
David Arquette: It's great to sort of perform with just using your voice. I sweat, actually, when I start doing the thing, because I really get into it. You really have to convey all of the excitement into your voice. It takes a lot, but it's really rewarding, especially when you see the little fans that love it.
LS: Do they recognize your voice?
DA: Well, I'll ask them, "Do you watch the show?" And I tell them I do the . . . I was at the Super Bowl and there were some little kids who were helping out at this little game we were playing and I was like, "Do you all watch Jake and the Never Land Pirates?" and they were all like, "Yeah!" I said, "Well, I play Skully," and I did the voice [and said], "Crackers," and they were speechless — it was the most adorable thing!
LS: Well your daughter is probably too old for the show, but does she still watch?
DA: She says, "Well Dad, I'm a little too old for the show, but I like to watch it to see what your character's doing." She does enjoy the show!
LS: Is she happy to see you back in the Disney fold?
DA: It's great. She loves Disney. She loves some of the older programming — Good Luck Charlie and all of that.
LS: Your costar, Sharon Osbourne, is about to become a grandmother. Do you have any advice for her?
DA: She's got all the parenting advice — I could use some advice from her! For Jack, I'd just say, you're going to be great. You know, sometimes when you're a first-time parent, you're kind of nervous and you're not sure what to expect. But just like animals and every creature on this planet, we all just kick into gear. You immediately, once the baby's there, you're a parent and you learn. You grow and you ask people, you read books, and you make some mistakes. But like a really great parenting guru said, "Parenting gives you the opportunity for a do-over every day, every minute." So if you make a little mistake, you can always make up for it and learn.
LS: Any chances we'll see Skully teaching the kids to dance?
DA: That would be fun. I mean, I'd love to do anything Skully-related. We've done interactive rides — there's one at California Adventure. I love the music component, too — being able to sing sometimes is fun.