Dean McDermott's Tips on Quality Time With Family
Dean McDermott Shares Tips For Making Each Child Feel Special
We're excited to bring you a new post from mother and actress Tori Spelling! Every other week, we're bringing you the best parenting and lifestyle advice from ediTORIal by Tori Spelling, which is Tori's daily blog about everything from food and fashion to parenting and relationships. Tori is currently resting following complications after the delivery of her fourth child last month, so her blog is sharing her husband Dean's thoughts on spending quality time with your kids. We wish Tori a speedy recovery!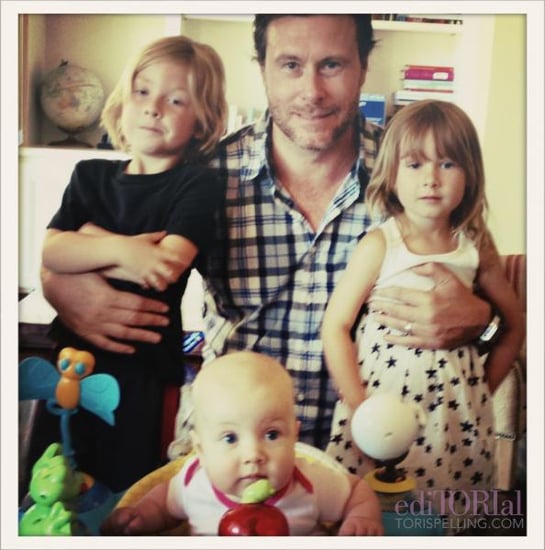 While Tori is still resting and recuperating, we thought we'd share some thoughts from Dean on how to make each of your kids feel special. Dean recently posted a blog on his website on the topic, and we think it's such great advice on how he spends quality time with each of his kids that we wanted to make sure all of you saw it! Here are some of Dean's pointers for making time for each of your kids:
Related: The McDermotts' Matching Pedicures
My five kids are each so different, not just in terms of age and interests, but personality too. They're each special in their own way, and I'm equally proud of all of them. While I love nothing more than spending an entire day with the whole family, I'm conscious of making sure each of my kids feels special. Whether you have one kid or a whole brood, like Tori and me, here are some ideas for getting quality time with your kids and making them feel special:
Set a weekly "dad" date. Go for a bike ride, walk the dog (or goat!), have lunch at your kid's favorite restaurant, or get a pedicure together — whatever your kid likes to do.
Choose group activities that everyone can participate in — whether you're crafting, cooking, or playing at the park, make sure there's something fun to do for each member of your family.
If you have babies in the house, let your older kids share in the baby-raising experience. Not only will they be taking some of the work off your hands, they'll learn to be responsible and will take pride in caring for their younger siblings. There's nothing sweeter than hearing one of your older kids reminisce about caring for a younger sibling when he/she was a baby.
Make it a ritual to have group story time before bed. Let your kids pick the story. Agreeing on a story everyone can enjoy is a great exercise in compromising and sharing.
As much as possible, cook kid-friendly meals together, like my gourmet mac 'n' cheese. Make sure to keep knives and other dangerous kitchen implements away from your younger kids. Instead, let them stir, or measure ingredients. Your older kids can help with the prep work — just make sure you teach them basic kitchen safety and proper knife-handling technique first. Again, make the menu-planning a collaborative process. Your kids will get excited about making something they chose, and they'll be learning an important life skill!
How do you spend quality time with your kids?
— Dean
More great reads from Tori Spelling:
Saturday Fun: Tie Dye With the Kids
Liam Loves Finn
NY Fashion Week: My Fave American Designers
Liam's First Day of Kindergarten
DIY Jewelry TuTORIal