Dehydrated Baby Food
NurturMe Dehydrated Baby Food: Ga Ga or Gag?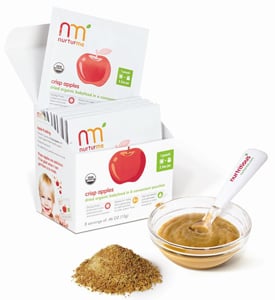 Between the baby wipes, toys, change of clothes, and actual diapers in mama's diaper bag, it's a wonder the tote can even be lifted off the ground. Once lil ones are ready for solid food, add some jars or homemade purees to the bag and start treating it as an exercise tool.
NuturMe ($9 for a pack of eight) is designed to lighten mom's load while still providing tots with organic, gluten-free baby food. The company's pouches of dehydrated baby food are designed to be mixed with water, breast milk, or formula to create tasty purees for lil tykes. Weighing little more than a feather, the recyclable packs can be stashed away in diaper bags, airline carry-on bags, or even left in the car for emergencies. What do you think? Would you try dried baby food?