Delilcious: Cinco de Mayo Snack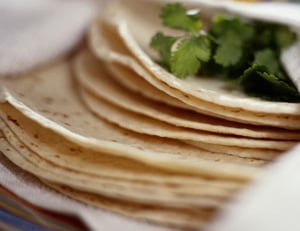 Happy Cinco de Mayo! Celebrate this day of independence, by getting the kids in the kitchen and asking them to assemble their own festive eats! The tot-friendly black-bean taquitos are the right size for lil hands to roll! The recipe has just a handful of ingredients and takes next to no time to make so it's the perfect quick and simple snack. From stirring the sour cream to tending to the warm tortillas, let your tot take care of those tasks.
And since the filling is soft, it's a good food for children of all ages. My kids love making these Mexican treats.
To get the recipe, read more.
Tot-Friendly Taquitos
original recipe

Ingredients
corn tortillas
1 can of black beans
1/2 onion, diced
1 carrot, diced
sour cream
cumin
salt
pepper
olive oil
Directions
Saute the diced onion and carrot in a tablespoon of olive oil until the onion is translucent. Then, take the vegetable mixture and put it in the blender, adding the can of black beans after straining half of the liquid. Add salt, pepper, and cumin to the mixture to taste and blend until it is the consistency of refried beans. Warm the beans in a skillet. In a small bowl, combine sour cream with a bit of cumin for flavor (you can also use taco seasoning).
In a pan coated with olive oil (you can also use butter), saute the tortillas until they brown a bit on the edges.
Then, smear some of the black-bean mixture in the center of each tortilla, roll them up, top with seasoned sour cream and serve.
Green onions, salsa, and guacamole are also great garnishes.
Information
Category

Snacks

Cuisine

Mexican