Delivery Gift Boxes For Moms
Adorable Delivery Box Services For Mom, Baby, and Kiddos
New moms don't always have time to shop, so why not ring up a delivery instead? Here are three monthly delivery box services that offer adorable products, crafts, and pampering.
Whether you are a new mom needing some mom-approved baby products, a busy mom who's looking for creative crafts for her kids, or a mom who deserves a little spoiling, these services have you covered.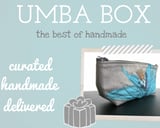 Box For Moms:
Umba Box ($26/month) is a monthly box delivery full of handmade, artisan products like stationary, jewelry, bath products, or home accessories. It has an adorable Pinterest page for a better idea of what types of surprises you will receive.



Box For Babies:
Citrus Lane ($25/month) provides monthly boxes full of cute and approved baby products, each tailored to your baby's age from newborn to 18 months. You can also send baby shower boxes. Themes include bedtime play, teething, and starting solid foods.


See what delivery service offers boxes for kids.
Box For Kids:
BabbaBox ($30/month) is a doorstop delivery service that provides monthly subscription boxes filled with craft materials, books, and physical materials to engage and entertain your kids. Every box has a new theme, is gender neutral, and is targeted toward 3- to 6-year-olds.