Details About Malia and Sasha Obamas Life in the White House
The Obamas Don't Divulge Much About Their Daughters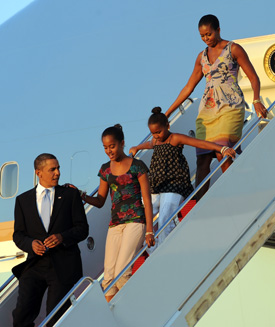 Since entering the Oval Office, Michelle and Barack Obama have carefully shielded their girls from the spotlight, but the Associated Press rounded up all of the details the proud parents have shared in interviews, including:
Both girls play the piano; Malia also plays the flute. Sasha likes to dance hip-hop. The girls also are working on their tennis game. They are not allowed to watch TV during the week, and weekend viewing is limited. The girls can only use the computer during the week if they need to for school assignments.
And perhaps, much to chagrin of 12-year-old Malia, the President had a revelation that, "'Even though she's 5ft 9in, she's still my baby. And she just got braces, which is good, because she looks like a kid and she was getting ... she's starting to look too old for me." How much do you divulge about your kids?