Diaper Bag Makeup Essentials
Diaper Bag Beauty: 6 Mommy Makeup Essentials
Gone are the days when you could spend hours playing with makeup at Sephora. It's hard enough to find a little alone time, let alone practice your former, pristine beauty rituals. Don't worry: you can still look your best with these six essentials. Just toss them in the diaper bag alongside the bottles and stay fresh-faced wherever you end up.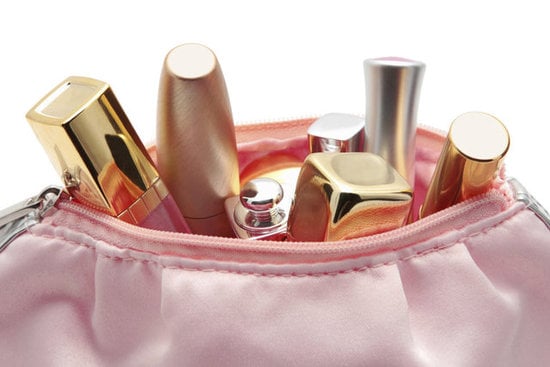 Hair elastics: Sometimes mama just has to put her hair up and be done with it. If hair ties aren't already your newest wrist accessory, don't forget to pack a few in your diaper bag. Use them in an easy updo to switch up your look at a moment's notice.
Multipurpose stick: Anything called "multipurpose" is a mother's dream. We absolutely cannot live without the NARS Multiple Stick ($39) for an easy, well-rested look. Try a neutral color like Maldives, and swipe the creamy formula on your cheeks, forehead, and lips for just the right amount of shimmer to achieve a healthy glow.
Baby wipes: Since you're already carrying a pack of these for less glamorous reasons, put them to use beyond the changing table as makeup remover and freshening towelettes. They are far less expensive than beauty brand towelettes, and you'll always have them around to clean up a smudge and stay breakout free.
Keep reading for more makeup musts!
Tinted moisturizer: Another double-duty product, tinted moisturizer like this Skintint Treatment and Tinted Moisturizer SPF 30 ($42) smooths out your complexion, protects with SPF, and moisturizes. We love that you don't need to carry fancy sponges or a makeup brush; just use your fingers to apply!
Concealer: Concealer is the tired mother's best friend. We swear by Cle de Peau concealer because it can magically kiss away those dark circles. It also doubles as an eye shadow base. Although it is pricey at $68, the stick works wonders and will last a while.
Mascara: All girls know that a little mascara can solve a lot of problems. A few swipes can quickly look like a few extra hours of sleep. Just make sure you choose the waterproof stuff. With a busy schedule like yours, there is no time for flakes and smudging.
What are your diaper bag makeup must haves?