Discipline Ideas For Tweens and Teens
Skip the Grounding; Try These Teen Discipline Methods Instead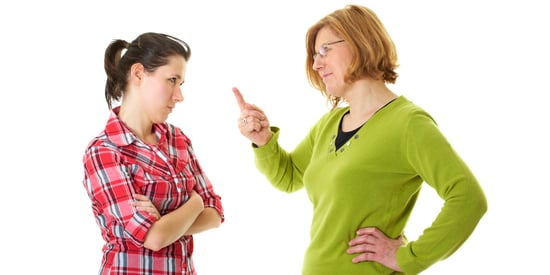 Parents often rely on old-fashioned grounding to punish their unruly teens. After a few friendless weekends, however, teens become immune to the discipline, and their bad behavior continues. Before you fill out the application for reform school, take a breath and try some alternative methods. Tested and approved by moms, here are some punishments to dole out when grounding no longer does the trick.
Have Him Give Back
For a punishment that doubles as a good deed, have your child participate in community service. "When he is disrespectful to me or any other adult, he has to do community service," Angie K. says of her son. "He's out there for about five hours. He hates doing it, but it gives him plenty of time to think about his behavior and how he should adjust it."
Go On Strike
Sick of all the disrespect? Show your teen what it's like to live without you. To teach her son about parental appreciation, Donna J. went on strike. "I did the cooking, but stopped the taxi service, the laundry, the dishes, etc.," she says. "We have had a much cheerier, helpful son since."
Check out seven other mom-tested methods.
Revoke Her Privacy
If the sound of slamming doors runs through the house, there's a simple solution: take them away. Christy W. learned this trick from her father, who tested it during her teen years. "It only took two times for me to stop slamming doors," she says.
Take Away His "Toys"
It's the same method you used when he was a tot, but instead of cars and action figures, you now have cell phones and iPads. If that doesn't work, Danyelle K. suggests "gradually moving up until you have stripped them of their creature comforts," like desks and bed frames.
Head to the Thrift Shop
While some parents make their children wear thrift store clothes as a punishment, others take the opposite approach. When Lindsey P.'s son forgot to take care of his items, she gave them to Goodwill. "He finally understood that we work hard so he can have nice things, so he needs to work hard at taking care of them," she says. "He has also learned that he must respect us in order to keep these things and to continue receiving them."
Stay Quiet . . . For Now
Rather than punishing your child as soon as he acts out, try waiting until your child needs something from you. "I don't respond at the moment, but later when the child wants something from me, I tell them no," Kathy F. says. "If they persistently ask why I tell them because I was offended at how rude they were. Then next time they'll be a little more polite and cooperative."
Have a Conversation
Teens may constantly misbehave if they don't know why their actions upset you. Bonnie D. recommends taking a brief time-out and then listening to your teen. "If you give them an opportunity to voice their frustration and then come back and talk calmly about it, it usually works itself out."
Try a Tiny Bribe
If your teen struggles with small tasks, like cleaning his room, sometimes a bribe is the best way to get them done. "Instead of saying 'Clean your room, or this is going to happen' I say, 'Clean your room and you can stay up 15 minutes later'," Sherri F. suggests.
Reward Good Behavior
Want to see their sweet side more often? Throw in the occasional reward. When Kristen M.'s son stopped reacting to punishment, she and her husband started to acknowledge his good behavior instead. "He gets stars for good behavior and loses stars for bad behavior," she explains. "He has to 'buy back' the items that he lost as punishment by earning enough stars to do so." Though 13 may seem like too old for a behavior chart, Kristen says the system has improved her son's behavior.
How do you punish your tween or teen? Share your methods in the comment section!