Dr. Sears on Environmental Health Risks and Tiger Mom
Dr. Sears Says Parents Must Make Better Food Choices, Tiger Mom Doesn't Work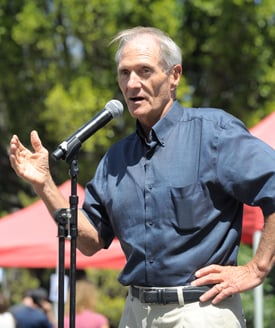 Parenting trends come and go, and in his 30 years serving parents and children, Dr. Bill Sears has seen it all. The pediatrician, author of more than 30 baby and parenting books, and founder of the attachment parenting movement has some strong views on how we are raising our tots today, and he's not afraid to voice them.
I spoke with the doctor at the launch of his new Dr. Sears Family Essentials line of all-natural snacks, beverages, and baby care products. After discussing the importance of adding DHA to kids' diets, our conversation shifted to current parenting issues. See what he had to say!
LilSugar: How concerned should parents be with environmental health issues, and how can parents reduce their effects on kids?
Dr. Bill Sears: Very concerned. But they can talk about it. But the fact of life is, they can make changes in the food issue much quicker than environmental issues.
LS: In all of your years of watching babies and parents, what trends do you find most interesting now, and which do you find most disturbing?
Dr. Sears: The best trend right now is parents finally taking nutrition seriously. They're making the connection between what my child eats and how my child's brain grows, how my child learns to behave. They've always known that, but they're now doing something. For the first time in history, we're seeing an action plan.
The second trend is pediatricians are not being so wimpy. We used to say, "Oh you're child needs to eat healthy," or "Your child's a bit overweight." We don't use the term overweight anymore. We use the term prediabetic. For a mom, sitting in my office, and I say to you, because I care, that Susi is prediabetic, you're going to make a change much more than if I say she's a bit overweight. So that's a trend that we're seeing, because the old things are not working.
My concern still is that parents have not gotten the message that my child is what he eats. We cannot blame the food industry. The food industry will make what parents will buy. If you don't buy it, they won't make it.
Keep reading to see what Dr. Sears had to say about the Tiger Mom movement!
LS: The Tiger Mom received a lot of publicity earlier this year. Is it an effective way of parenting?
Dr. Sears: It works in Asia. It does not work in America. We're a feeling, caring, fun-loving society. We want to laugh. A child is not like a robot. In Asia, they're programmed. They're programmed to play the piano, the violin. They're programmed to say yes and no. They do their homework. They don't have any fun. America is a fun-loving, happy society. So it's good intellectually, it's bad emotionally.