Dramatic Water Breaking
Where Did Your Water Break . . . Chime In!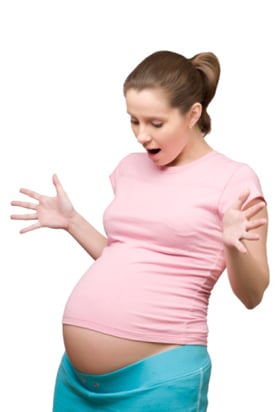 Having had two c-sections, with nary a contraction to be felt, I always envied women who experienced movie-like water-breaking scenes, where out of the blue, their water breaks and it is a mad dash to the hospital. Over the weekend, a friend had just that.
One month away from her due date with her third child (the first two were both over a week late), my friend thought she was safe to head to the 'burbs for dinner and shopping. With her older tots safely snuggled under the covers at grandma's, she and her husband began their date night at Toys R Us to play Santa. Standing in the middle of the Bakugan aisle, dressed in her new hot over-the-knee boots, her water broke, leaving a huge puddle on the floor. Some quick-thinking saleswomen helped her to the door while her husband ran to get the car, and two hours later their son arrived.
Did you have a dramatic water-breaking situation? Share it with us below, or get the conversation started in the Pregnancy Posse group!