Dress Codes For Teachers
Do Teachers Need a Dress Code?
Here's a post from our partners at BabyCenter! Every week, we bring you the best parenting and lifestyle stories from the experts at BabyCenter, including this post from Stacie Lewis about dress codes for teachers.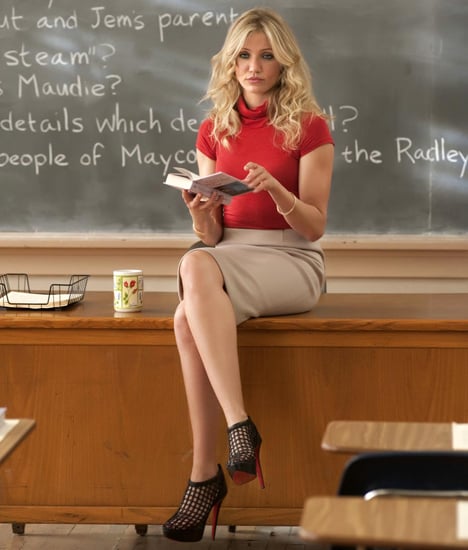 One of my friend's children started school last week and was stunned upon meeting the teacher to find her teetering on stilettos. The teacher was, shall we say, more appropriately dressed for clubbing than a first-grade classroom. Her skirt was very short; the kind of skirt that makes it near impossible to squat down next to a five-year old without revealing more than the secret to long division.
Is this teacher a rarity? I am a teacher and I have seen it myself. Many times. Admittedly, some of the women have been amazing teachers. Amazing teachers with a very liberal approach to the dress code.
Related: 5 Lessons From Kourtney Kardashian's Birth Video
This past summer, as the temperature rose quite a few skirts rose as well — along with a few eyebrows. At my school, all female staff were gently reminded that there was a school dress code and it should be adhered to. Our dress code for women: no spaghetti strap tops or dresses, dresses/skirts of a reasonable length, no see-through or very low cut tops and no flip-flops.
My 2012 teaching self says, "Yes, that sounds right." My 2000 teaching self says, "It's hot. I'm wearing spaghetti straps and some flip-flops!" I wore jeans every day to work in my first teaching placement. Oh yeah, and a tongue piercing. That stayed in for five years and I never once heard a complaint (to my face).
Today, I go to work every day in a dress or skirt. I'm short so I wear heels. Usually a wedge of some sort. This places my teacher look firmly in the "smart" category.
I would never try to look sexy at school. I would never dress like I used to dress back in 2000. And, I'm old enough and conservative enough (and prudish enough?) to wonder why any teacher would.
Which of the following teacher looks would you be happiest to see? And, do we judge a teacher by the length of their skirt or the quality of their teaching?
More great reads from BabyCenter:
Do kids belong in bars?
How many children complete your family?
The very silly secret to getting your kids to eat kale
6 things every new mom needs in her closet
My most embarrassing pregnancy moment — ever