Dudela Doula Services For Dads
Would You Hire a Dudela?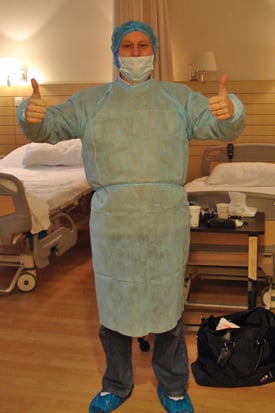 If a doula's job is to help a mom-to-be with her childbirth experience, who's there to help the future dad? The Dudela!
In a post to the parenting message board UrbanBaby, a new dad proposed being the go-to guy every father-to-be needs in the delivery room. Among his responsibilities are:
MOBILE DEVICE MANAGEMENT. We will meet before the due date to craft an announcement statement, which I will send via text message to contacts of your choosing within the first hour of your baby's life. During labor and up to two hours after delivery, I will respond to all incoming texts and phone calls, taking messages when required. The battery life on all of your devices is safe in my hands. And what if she's not feeling that Bjork playlist you made for her iPod? I'll put on some Sam Cooke instead. SOCIAL NETWORK COORDINATION. Check you in at the hospital on FourSquare? Check. Update your Facebook status with baby's first picture? I like. Tweet the birth announcement? #Yes FANTASY SPORTS ASSISTANCE. The world of sports will not stop for the birth of your baby. Don't worry whether Curtis Granderson matches up well against David Price (he doesn't) or if the 49ers defense can stop the run (they can). As a veteran of many fantasy leagues, familiar with both the ESPN and Yahoo! platforms, I will ensure your team doesn't miss a beat, so you won't miss a beat in the delivery room. CONCIERGE SERVICES. You're going to want to get some celebratory cigars. Good thing I've been a subscriber to Cigar Aficionado for the last 10 years.
Is it a joke? Yes. The Daily Mail interviewed the man behind the posting who said it was a joke, but who's to say that dad doesn't need a lil helper through the labor and delivery process?
Source: Flickr User Marc van der Chijs