Dumbbell Baby Rattle
The Buff Baby Dumbell Rattle: Kid-Friendly or Are You Kidding?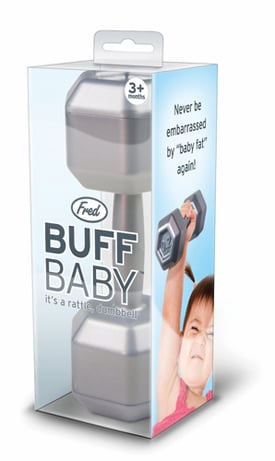 You're never too young to start a fitness routine! Mama strove to keep up with her prebaby workout throughout her pregnancy, and now that the lil one's arrived, she's getting him gym-ready from the start!
Fred and Friends Buff Baby Dumbell Rattle ($7) is phthalate- and BPA-free dumbbell for tots — wait, a dumbbell for tots? Not really, it is actually a rattle for lil ones in the shape of dumbbell, making it the perfect gift for your expecting gym buddy or pregnant trainer, because body-building babies are just too cute in pictures.