Easter Arts and Crafts
Family DIY Fun: Eggcellent Bouquets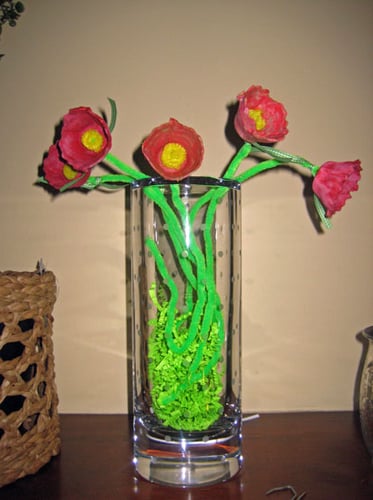 Besides yolks, there is another by-product of the Easter egg dying process that usually gets tossed to compost — the egg crate.
Instead of throwing it away, use it to craft up something floral with your lil ones. They will enjoy making something out of nothing and you'll get a nifty centerpiece out of it. To see how to make the eggcellent masterpiece, read more.
Items you will need:
Egg crate
Scissors (with fun edges if you want)
Paint
Paintbrush
Green and other colored pipe cleaners
Crinkled paper or cellophane grass
Vase
Now you are ready to begin making your eggtastic bouquet!
Cut the egg cartons into single cups.
Paint the cup and let it dry.
Poke a tiny hole in the bottom of the cup.
Pull the green pipe cleaner through the bottom of the cup and make a small loop to keep it in place.
Use another color pipe cleaner and wrap it around the green to create a pretty eye-popping center.
Fill your vase with the crinkled paper or cellophane grass and place the flowers in the middle.
Voila! Enjoy the poppy inspired flower arrangements!