Easy and Fast Kid-Friendly Dinner From Antonia Lofaso
Top Chef Antonia Lofaso's Fave Kid-Friendly (and Fast!) Pasta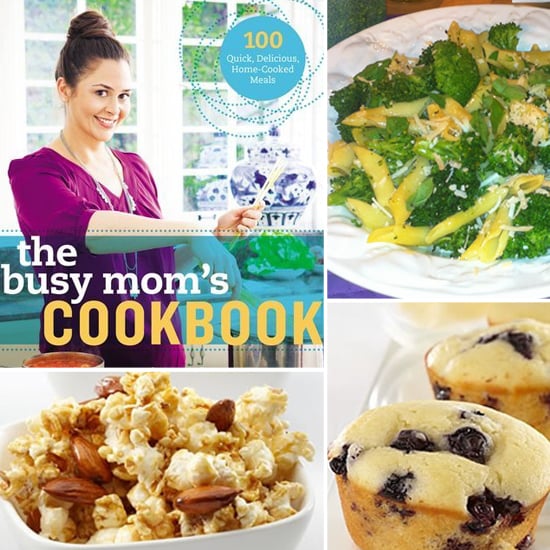 We fell for laid-back single mom and chef Antonia Lofaso on Top Chef, but we're doubly in love after the release of her first book, The Busy Mom's Cookbook, this month. Pick up a copy to score 100 practical, delicious recipes and tons of tips to get your kids excited about new foods. "Having my daughter in the kitchen has made her a more adventurous eater, but it's also been about getting her to the supermarket and letting her pick out her own fruits and vegetables," Antonia told us. "Let your kids explore — even if they pick up a pile of beets and don't know what they are. Before you know it, you'll have a kid who loves to eat beets and brussels sprouts!"
Antonia shared a few of her favorite recipes with us (check out her best blueberry muffins recipe and caramel-almond popcorn recipe), but we're most excited about her go-to Sicilian broccoli pasta, which you can whip up in a mere 20 minutes!
"My grandma made me for me all the time, and I loved it," Antonio says. "I know it sounds crazy that a kid could actually love broccoli, but I did! It's all about using roasted broccoli, which you can make the night before. Roasting gives the broccoli this great color and caramelization; it has a nutty, warming quality to it, and even picky kids love it!" And the best part: because the broccoli can be made in advance, you can get this filling, healthful dish on the table in no time flat!
Get the recipe after the jump!
Ingredients
1 cup olive oil (1/2 cup if using leftover roasted broccoli)
2 large heads broccoli
1 tablespoons salt (if using fresh broccoli)
8 garlic cloves
1 pound penne rigate
1/2 cup shredded or grated Parmigiano-Reggiano cheese
2 tablespoons chopped Italian flat-leaf parsley, for garnish
Directions
Heat the water for your pasta while you prepare the broccoli.
For fresh broccoli: preheat the oven to 450 degrees. Chop the broccoli into florets, drizzle them with 1/2 cup olive oil, and toss well. Season with salt and transfer to a large baking sheet, leaving at least 1/2 inch between each floret. Roast the broccoli until slightly brown, approximately 10 to 12 minutes, without moving it around on the pan. The bottoms should be nicely browned.
For leftover broccoli: Heat 1/2 cup olive oil over medium heat in a shallow, 10-inch sauté pot. Cook the garlic only until it starts to lightly brown. Toss in the cooked broccoli for 2 minutes, just to warm it through. Set aside.
Prepare the penne according to package directions. Drain the pasta and toss it in the pot with the broccoli, garlic, and olive oil. If the mixture seems dry, add a little more oil.
Toss in the parmesan cheese, stir, and garnish with parsley.
The Busy Mom's Tip: "I recommend sautéing the broccoli in a shallow sauté pot, rather than a sauté pan," Antonia says. "You'll be able to sauté the vegetables properly, and the pot will be big enough to accommodate the pasta after it and the broccoli are both cooked. If you don't have a sauté pot, use a sauté pan for the broccoli and combine the cooked pasta and broccoli in a large bowl."
Information
Category

Pasta, Main Dishes

Cuisine

North American