Easy Stained Glass Window Hanging Craft For Kids
Craftastic: Easy Stained Glass Window Hanging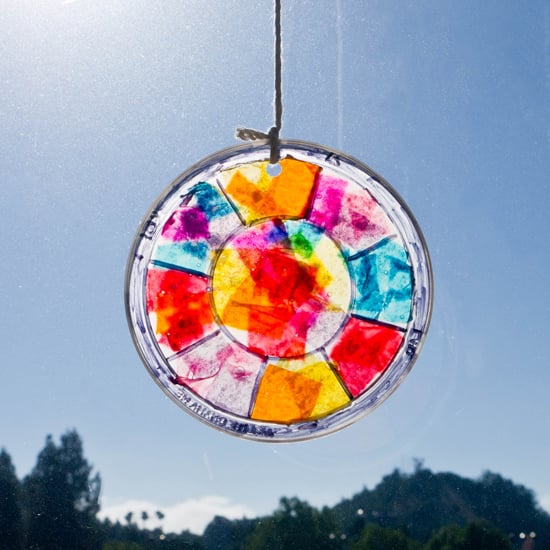 Brighten any room with this vibrant, faux-stained-glass window hanging. With the help of a repurposed clear plastic lid, your child can craft a miniature, colorful panel that the whole family will love — or even make several for a really special window display. While creating something really cool, your child will hone fine-motor skills and learn more about color. This craft also makes great use of all those plastic lids you've got hanging around.
Keep reading for the easy directions!
What You'll Need:
Clear plastic lid
Black permanent marker
Various colors of tissue paper
Small drinking glass
Ruler
Glue
Paintbrush
Directions:
Create the lines for the faux stained glass by tracing around a small drinking glass or using a ruler to create straight lines onto the plastic lid. Your child can get creative and create her own design, or you can offer a bit of assistance and do this step beforehand.
Select which colors of tissue paper your child would like to use, and cut into small pieces. If your tot is able to cut on her own, then let her have a go at cutting itty-bitty squares. Otherwise, you can let your child tear the tissue paper into bits to use.
Brush the plastic lid with glue and then invite your child to start filling in the sections with the small pieces of tissue paper. She can keep one color in the same area or overlap pieces and see what colors are created.
Once the faux stained glass has been filled with tissue paper, give the finished stained glass window a brushing of glue.
Allow the plastic lid to dry overnight, and then pop a hole in the lid with a hole punch. Thread with a length of string and hang in a sunny window.