Eco-Friendly High Chair High Chair
Belkiz Feedaway: Kid Friendly or Are You Kidding?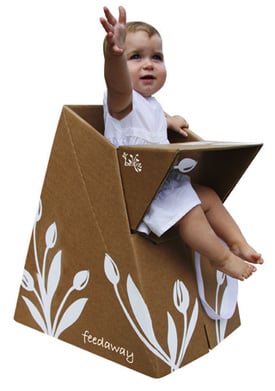 Fold up a chair and sit baby down! Families looking to raise eco-friendly tots may color their rooms with low-VOC paints, outfit their cardboard cribs in organic fabrics and make their lil one's food themselves. Now they can seat their hungry tykes in the first 100 percent recyclable high chair to feed them. The Belkiz Feedaway ($36) is a cardboard high chair designed to hold children up to 18 months old. With a three-point-harness system, the Feedaway can fold down for storage between uses and has a non-toxic food grade coating on it to protect it from food and spillage.
Would you test it out?