Ella's Kitchen Organic Baby Food
Eating Green With Ella's Kitchen's Pure Baby Purees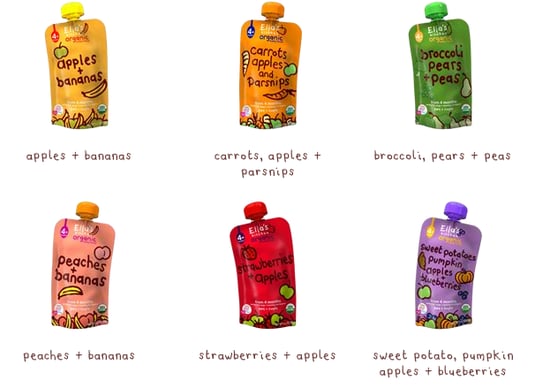 My son is six months old and he's already part of Jamie Oliver's Food Revolution! I've been through a bunch of different organic baby foods (both homemade and store bought) with my two older kids, but juggling three leaves a limited time for a mom to concoct her own edible creations. While the goal is to make foods from scratch for my lil one, I decided to try Ella's Kitchen's — squeezable fruit and veggie pouches moms laud. Started by a father in the UK who believes his children should eat the very best, the 3 oz. purees ($10.50 for 7 packs) come in fruit and vegetable medleys that are appetizing to adults!
Who is this product designed for? This product is perfect for parents on the go! If you're really in a jam and don't have a bowl and utensil on hand, a mama could probably even just squeeze the nutritious goodness right into her tot's mouth for a quick fix to calm the hunger pangs. (But, you didn't hear that from me!)
Is it practical? I've done baby food in jars, in tubs, and in containers — these squeezable packets with a snap off top are perfect for tossing in a diaper bag and storing in limited pantry space. They do not need to be refrigerated until they've been opened, but once they are the puree needs to be eaten within 48 hours.

To see what could be improved and if I'd buy it.

What could be better? Who doesn't love a bargain? The packets are pricey, but the food is pure so you are paying for quality nourishment for your kiddo.
Would I buy it? I already did. The purees smell delicious. I tasted the carrots, apples, and parsnips, and it was mouthwatering. I can't stomach the taste of jarred varieties and have had my husband put those to the test in the past. I was also skeptical of the pouch idea, but the convenience of it won me over.
What did baby think? My son's first taste of food was the carrots, apples and parsnips, and he gobbled it down and grabbed the pack out of my hand. He was laughing and kicking when he ate the bananas and peaches, and he held his mouth open for more when we served up the broccoli, pears and peas. Now I just need to order more options!