Ellen DeGeneres Gave Colin Farrell a Onesie With Four Letter Word For His Baby
Colin Farrell's F-Bomb Onesie, Parenthood Changes Everyone?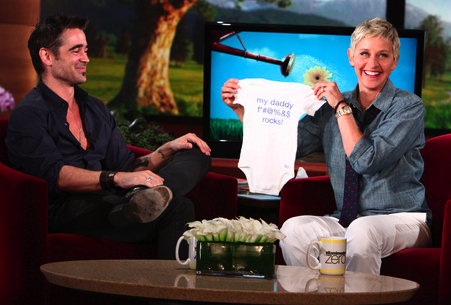 Does having a child make every mom and dad a chameleon? Yesterday, Ellen DeGeneres gave Colin Farrell a thoughtful gift for his baby when he was a guest on her show. The comedian handed the actor a onesie with "My daddy F#@%&$ rocks!" printed on it. The item was a fitting present for the father who is fond of f-bombs and four letter words despite his dad status. Colin seems to have stayed true to himself while parenting sons — James, 6, and Henry, 7 months. But, this example begs the question — do we just assume men and women will change once baby arrives?