Exercising While Pregnant Benefits Baby
A Trip to the Gym Can Boost Baby's Brain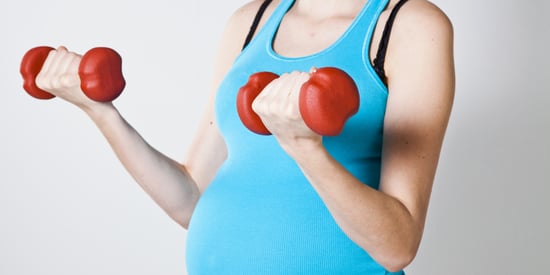 It's easy to slack off on exercise when you're expecting, but the benefits are too good to ignore. You'll sleep better, suffer less back pain, and stave off excess pregnancy weight gain. There's someone else who may benefit from those prenatal gym sessions too: your baby.
Scientists from the University of Montreal found that when women exercised during pregnancy, their babies had more brain activity within the first few days of their birth. So, will prenatal exercises guarantee you a baby genius? Not necessarily. The researchers emphasize that brain activity is not synonymous with intelligence. To determine that connection, they plan on following up with the babies as infants and measuring their cognitive development.
Read on for tips on adding fitness to your pregnancy routine.
For avid gym goers, staying active while pregnant shouldn't be a problem. For those who struggle to work out, however, there are many easy ways to add a little fitness to your day. Workout DVDs like Healthy, Fit, Happy Moms ($15), are an inexpensive way to workout at home and also offer postpregnancy exercises. If your schedule doesn't allow for a 30-minute sweat session, try fitting in small stretches and moves throughout the day. We love this four-minute workout from celebrity trainer Tracy Anderson as well as this 10-minute routine from Heidi Klum's trainer.
What are your prenatal workout tips?