Eyeball Meatballs For Halloween
How Ghoulish! Eyeball Meatballs For Halloween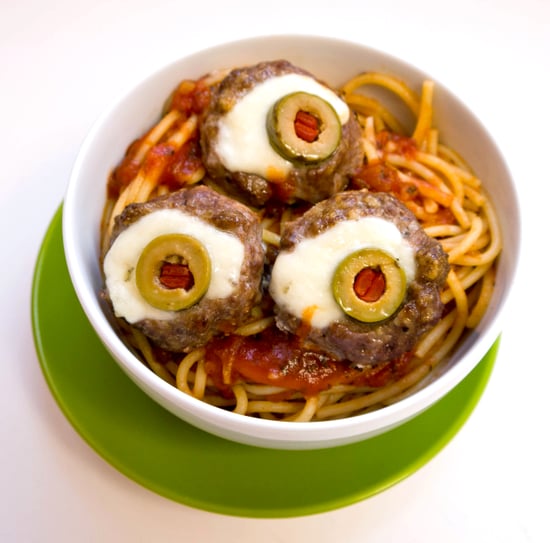 Want to make something really special with your kids this Halloween? Roll up some eyeball meatballs that are tasty and fun to eat. Served with your family's favorite pasta, they'll make an easy dinner that your kids will be talking about for weeks. And if your kids aren't excited about green olives, then swap with black olives for a spooky look. So invite the kids into the kitchen and start rolling your way to this ghoulish dish!
Keep reading for the simple directions.
Eyeball Meatballs
From Sarah Lipoff, LilSugar
Ingredients
1 pound ground beef
1/3 cup plain breadcrumbs
1 egg
1 teaspoon ketchup
1 teaspoon mustard
1 teaspoon mayonaise
1/4 teaspoon salt
Dash of pepper
12 to 14 small mozzarella balls
6 to 8 large green olives
Directions
Preheat your oven to 400°F. Mix the ground beef, egg, breadcrumbs, ketchup, mustard, and mayonnaise until the mixture comes together.
To create the eyeballs, your child can use a butter knife to cut the center out of a cheese ball. Then cut an olive in half and position into the center of the cheese, creating a spooky eye.

After everyone has washed their hands, invite your child to roll golf-ball-size meatballs and then use his thumb to press an indentation in the middle of the ball. Now he can place the cheese eyeball into the meatball and press and mold the meat around the cheese eye.

Invite your child to continue making eyeball meatballs, and then place them in a foil-lined baking pan.

Bake the meatballs for 20 minutes or until the cheese has melted and the meat is cooked through. While the ghoulish meatballs are baking, prepare your favorite pasta and sauce so everything is ready when your meatballs are.
Remove the finished meatballs, and serve over cooked pasta.
Makes 12 to 14 eyeball meatballs.
Information
Category

Main Dishes

Cuisine

North American