Fall Handprint Tree Craft For Kids
Kidoodles: Handprint Fall Tree Craft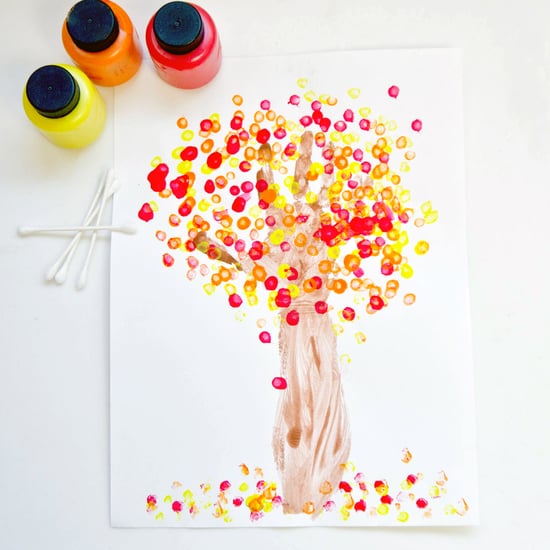 Parents love capturing their tots' handprints as they grow, making this Fall craft decorative and a colorful keepsake. With the help of some brown paint and a few cotton swabs, you are on your way to something special. This craft is perfect for the beginning artist, boosting fine motor skills and color recognition skills. The finished creation looks just like Autumn leaves falling from a truly unique tree.
Keep reading for the colorful directions.
What You'll Need:
White construction paper
Brown, red, yellow, and orange tempera paint
Large paintbrush
Cotton swabs
Paper towel
Directions:
This step is seriously ticklish, which can result in a bit of a mess, so have your child wear a smock and have wet wipes close at hand. Pick one of your tot's hands for using to create the trunk and branches of the tree. Use a large paintbrush to gently coat her hand and arm, up to her elbow, with brown tempera paint.
Place the white construction paper vertically in front of your child, encourage her to spread her fingers apart, and then press her hand and arm onto the paper, pressing each finger gently as well as the length of her arm.
Lift your tot's arm to reveal the trunk and branches of the tree. Allow to dry before beginning the next step.
Fold a sheet of paper towel in half and then squeeze a teaspoon of red, yellow, and orange paint. Offer the paint to your tot along with a few cotton swabs. Now your child can dip the tip of a cotton swab in one of the colors of paint and then create lots of dots all around the tree, just like Fall leaves.
Encourage your child to continue experimenting with making dots and using different colors of paint, until the handprint tree is full of vibrant autumnal leaves. Add a few dots of color at the bottom of the paper to finish the craft.