Fall Leaf Iced Cookies
Festive Fall Iced Sugar Cookies Double as Dessert and Decor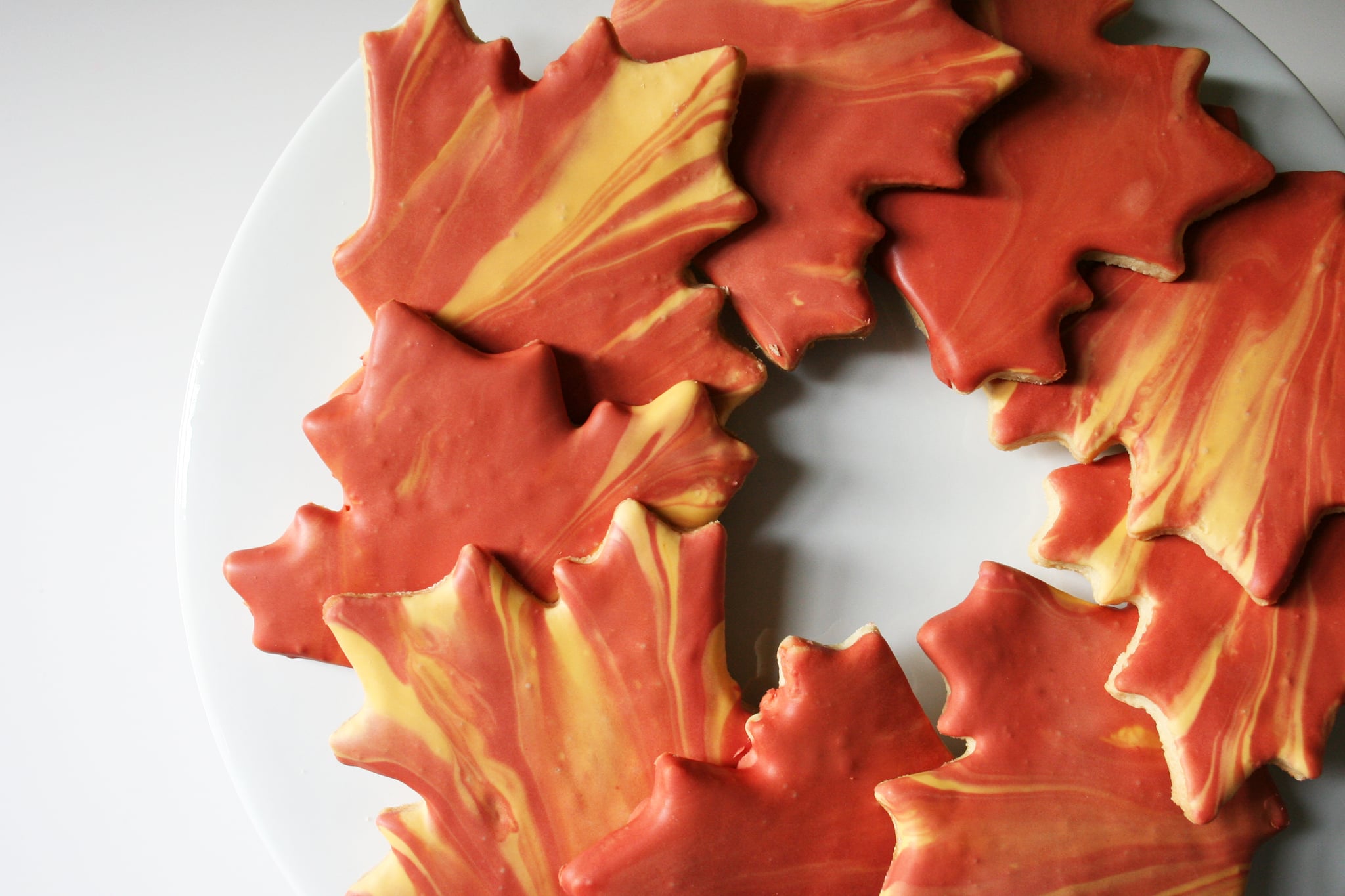 Looking for a beautiful table decoration for Thanksgiving or a treat our kids can enjoy? Make these leaf cutout cookies, dipped in a marbled royal icing, which not only taste yummy but also look beautiful adorning a holiday table.
The cookies are semisweet, flaky, and buttery like a shortbread. I used vegetable-based food coloring for the icing, and the colors still came out vividly. Royal icing dries hard and shiny, so these cookies won't stain the faces and hands of your kids as they gobble them up.
Fall Leaf Iced Cookies
From Anna Monette Roberts, POPSUGAR Moms
Ingredients
Cookies:
8 ounces (2 sticks) butter, softened to room temperature
1/2 cup granulated sugar
2 teaspoons vanilla extract
2 eggs, yolks only (reserve whites for icing)
3 cups unbleached all-purpose flour
1/2 teaspoon baking powder
2 tablespoons milk
Royal Icing:
2 egg whites
2 teaspoons lemon juice
1/2 teaspoon vanilla extract
3 cups powdered sugar, sifted
Red and yellow food coloring
Equipment:
Parchment paper
Rolling pin
Saran Wrap
Leaf cookie cutter
Cooling rack
Directions
To make cookie dough: In a large bowl, beat butter, sugar, and vanilla with an electric mixer on medium until light and whipped. Beat one egg yolk at a time until thoroughly incorporated. On a low speed, beat in baking powder and flour, one cup at a time. If dough is crumbly, add milk, one tablespoon at a time. Dough should hold together easily and not crumble. Gather dough into a ball and wrap it tightly in Saran Wrap. Refrigerate for one hour until firm, or for up to three days.
Preheat oven at 350 degrees F. Line cookie sheets with parchment paper. Cut dough into three pieces. Place one piece on a flat, lightly floured surface. Gently press down on the dough with the rolling pin to slightly flatten it before rolling the dough out to 1/4 inch thick. Cut shapes out using cookie cutter, and use a spatula to transfer cut cookies to lined cookie sheets. Repeat with remaining dough scrapes. Repeat with other two pieces of dough.
Bake cookies for 15–20 minutes, rotating the sheets after seven minutes of baking. Cookies are done when they are slightly golden on the edges and firm to the touch. Slide papers off cookie sheets to let cookies cool completely.
To make icing: In a large metal bowl, beat egg whites, lemon juice, and vanilla extract on low speed until well combined. Beat in powdered sugar, one cup at a time, until flooding consistency*. Separate 1/3 of the icing into a small bowl. In the large bowl of icing, slowly stir in several drops of red food coloring and a few drops of yellow food coloring until dark orange icing is created. Cover bowl with Saran Wrap. In the small bowl, slowly stir in several drops of yellow food coloring until yellow icing is created. Cover bowl with Saran Wrap.
To assemble: Place cooling rack on cookie sheet or on top of paper towels to avoid a messy cleanup. Using a spatula, scoop out a few tablespoons worth of yellow icing and drizzle it on top of the orange icing. Holding a cookie on its sides with the thumb and middle finger, lightly dip cookie into the bowl of orange icing. Lift the cookie out of icing, and allow excess icing to drip down into bowl. Place iced cookie on cooling rack to harden. After every couple of cookies, drizzle yellow icing on top of the orange icing. Allow cookies to harden at least four hours before storing them for up to a week.
* To check for flooding consistency, scoop the icing up with a spatula and watch the icing fall. If the icing drips down the spatula slowly, then rests on top of the icing in the bowl for a second before it dissolves, it is flooding consistency. If the icing is too runny, beat in more sifted powdered sugar until you reach the desired consistency. Once you've made the icing, always keep it covered with Saran Wrap, because royal icing dries quickly.
Information
Category

Desserts, Cookies

Cuisine

North American

Yield

Approximately 15 cookies