Fall Makeup Tips For Moms
Wake Up to Makeup, Expert Tips For Mom's Morning Routine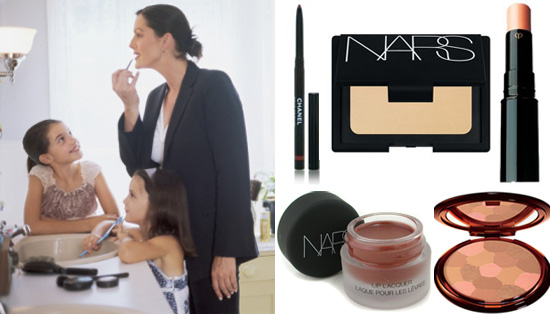 When it comes to the morning rush, mom often has to compromise her mirror time. Despite time constraints, ladies like to look their best so we asked Taymour, a makeup artist at Paul Labrecque salon in NYC for some quick makeup tips to simplify a mother's routine.
Powdered foundation is easy to apply and hides many flaws. NARS Dual Powder in Stromboli is "neutral and works for everyone."
Eyebrows create a frame for the face. Spend some time – when the kids have gone to bed or during your lunch break – sculpting your eyebrows, either on your own or professionally, and the effect will last throughout the week.
Keep eye makeup simple. One all-over color, like NARS Nepal, opens the eyes and adds some shimmer, brightening the whole face.
Stick with an eyeliner pencil. It's faster and less mistake-prone than its powder and liquid siblings.
Pick a good concealer to do it all. According to Taymour, Cle de Peau is expensive but worth it. It covers under eye circles when you've been up late, conceals broken veins and can serve as an eye shadow base if necessary.
Keep reading for more helpful tips.
Spend a few seconds on a brightener. Dusting some on the chin, nose, and around the eyes will help achieve a bright-eyed and bushy-tailed look, even if you only caught a few hours of sleep.
Bronzer not only gives the sun-kissed look, it can serve as blush when used sparingly. Taymour recommends Guerlain's bronzers.
Choose a smooth, matte lip color, as opposed to something shiny. It will look more natural and add some depth to your look.
Lip lacquers, such as NARS', add the shine of lip gloss, but last longer, making them ideal for moms on the move.
Lip pencils, while a bit time consuming to use, make a difference and help create the foundation for lasting lip color throughout the day. Taymour likes Chanel's Aqua pencils because they are smooth and the colors are natural.