Family Fun Ideas For St. Patrick's Day
How to Make a Kid Friendly St. Patrick's Day Spread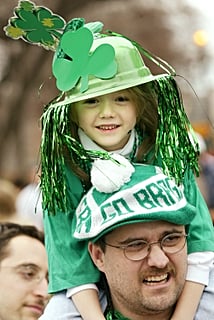 Convincing tots to eat their greens is typically a pretty laborious process, but St. Patrick's Day may be an exception. Charged up on green celebrations and tales of St. Patrick your children just might get their dose of vegetable vitamins today. Here are some simple ideas for infusing your family meal with a little festive flare.
Dinner Menu: YumSugar suggests a delicious dinner of Green Goddess Dressing, Warm Spinach and Artichoke Dip, Pesto Pizza and Creamy Broccoli Soup. If that's far too much green for your family, make your tots the pizza with the pesto on the side. They can add the color it to their liking or choose to keep their slice plain.
Treats: Make a simple and low sugar Irish Soda Bread and decorate it with green royal icing for kid appeal. If you don't have a ton of time pick up some shamrock Sugar cookies from your local bakery or grab unfrosted cookies and frost them with your children.
Green Non-Alcoholic Beer: While the adults chug delicious beer cocktails make sure to have some equally attractive non-alcoholic beverages (we call those EANABs) on hand for your little leprechauns. Add natural green dye to Sprite, mineral water or apple juice for a virgin cocktail.
Wear Green: Don't forget to have your whole family wear a spot of green so no one gets pinched at school.