FashionABLE Scarves For Ethiopian Women
What If a Scarf Wasn't Just a Scarf, but a Lifeline For Needy Women?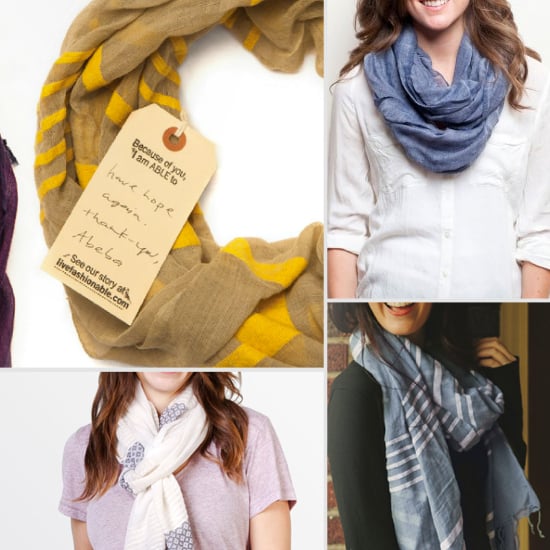 It's no secret that we love scarves. More than just a trendy accessory, the gauzy scarf has become a mommy must have — just ask Jessica Alba, who says that she's always spotted in them because "if my baby has an accident — and I'm holding the baby — I can cover that accident up! So I'm not walking around with a big puke stain or poo stain on my shirt!" So we're always on the lookout for a scarf that does the job and helps tie a tired mama's outfit together.
But what if the scarf did more than that? What if it helped take a young girl out of the sex trade? What if it helped a woman climb out of poverty? Welcome to FashionABLE, the Addis Ababa organization that gives at-risk Ethiopian women a new shot at life. Rather than simply hand the women money, FashionABLE is a sustainable business, training the women to make beautiful, handmade cotton scarves ($28-$44) out of Ethiopian cotton harvested from local fields. The scarves are then sold around the world, earning the women steady income and a new craft. Each one is named after a woman whose life has been transformed by the business and comes with a hangtag with a note from her about how her life has changed. If you've been following the ONEMoms — a group of US moms who traveled through Ethiopia to learn about ONE's efforts to fight extreme poverty and preventable disease — you saw how much these scarves can help, and now realize just how lucky we are to raise our kids out of such harsh conditions.