Fast and Easy Turkey Sloppy Joes Recipe
Family Dinner: Sweet and Tangy Turkey Sloppy Joes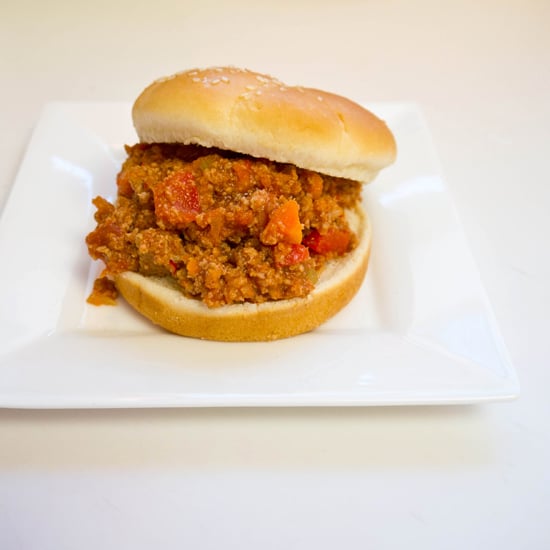 There's nothing like sweet and tangy sloppy joes for dinner. This kid-friendly dish has big flavor and the ability to hide certain healthy veggies that might not be on your little one's list of good eats. Using ground turkey keeps thing healthy, along with the addition of carrots, celery, and stewed tomatoes. And this sloppy joe recipe has a step that just might surprise you.
Keep reading to find out!
Turkey Sloppy Joes
From Sarah Lipoff, LilSugar
Ingredients
1 pound ground turkey
1 small onion
1 carrot
1 celery stalk
1/2 red pepper
1/2 teaspoon vegetable oil
1/2 teaspoon salt
1/2 teaspoon paprika
1/2 teaspoon oregano
1 teaspoon Worcestershire sauce
1 teaspoon red wine vinegar
1 teaspoon brown sugar
1/4 cup ketchup
1/4 cup water
1 15-ounce can stewed tomatoes
4 hamburger rolls
Directions
Heat a large skillet over medium-high heat and add the ground turkey. Season with the salt, paprika, and oregano, and give it a stir. Let the turkey brown while you chop the onion, carrot, celery, and red pepper into small dice.
Add the chopped veggies to the turkey and stir. Continue cooking until the turkey has browned, about five to seven minutes.
Measure and add the Worcestershire sauce, red wine vinegar, brown sugar, ketchup, and water. Stir together until everything is happily bubbling.
Add the can of stewed tomatoes and stir, breaking them up into smaller chunks. Turn the heat down to medium-low and let the sloppy joes simmer for about 10 minutes.
Taste for flavor and adjust seasoning as needed. Place the rolls in the toaster or under the broiler until lightly toasted.
Now for the fun step: place half of the mixture into a blender and pulse on low a few times to break down the turkey and vegetables into smaller pieces.
Add the blended mix back to the pan and stir until incorporated. Serve on the toasted rolls alongside a big salad, and dinner is ready!
Serves four
Information
Category

Main Dishes

Cuisine

North American